Fiat Punto (1999 - 2007)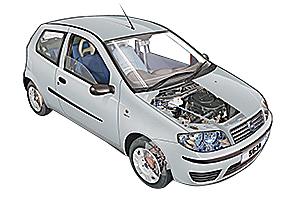 Complete coverage for your vehicle
Written from hands-on experience gained from the complete strip-down and rebuild of a Fiat Punto, Haynes can help you understand, care for and repair your Fiat Punto. We do it ourselves to help you do-it-yourself, and whatever your mechanical ability, the practical step-by-step explanations, linked to over 900 photos, will help you get the job done right. Regular servicing and maintenance of your Fiat Punto can help maintain its resale value, save you money, and make it safer to drive.
What's covered
What's covered:
Hatchback with 1.2 litre (1242cc) petrol engine, inc. 'Speedgear'/CVT automatic transmission models.
Petrol: 1.2 litre (1242cc).
Exclusions:
Does NOT cover 1.4 litre (1368cc) or 1.8 litre (1747cc). Does NOT cover diesel models or Grande Punto. Supersedes 4066 and 4746.
Print manual
More details
About
The Fiat Punto range covered by this manual was introduced in 1999, in 3‑door and 5‑door Hatchback form, with a choice of two sizes of petrol engine and a diesel. The engines covered here are the popular 1.2 litre SOHC (8‑valve) and DOHC (16‑valve) petrol units.The Punto was facelifted in 2003. The later models are recognisable by having a radiator grille between the redesigned headlights, and a different front bumper. Our repair manual makes the ideal companion when you're undertaking maintenance or repairs on your car.