Our most
advanced repair
and servicing guide ever. Comprehensive data and expert tutorials
What's

Included

Repair manuals

Fault finder

Servicing data

Video guides

Technical drawings

Electronics

What's

Included

Repair manuals

Fault finder

Servicing data

Video guides

Technical drawings

Electronics
Digital only product
Advanced-level data
One-time purchase
This is an online only product
What's Covered
Service intervals

Including service indicator reset

Specifications

Engine
Emissions
Cooling system
Electrical
Brakes
Steering and wheel alignment
Air conditioning
Wheels and tyres
Capacities
Torque settings

Maintenance and repair information

Engine
Clutch
Transmission
Drive shaft
Differential
Steering and suspension
Brake system
Heating and air conditioning
Bodywork and interior
Electrical system
Wheels and tyres

Lubricants & fluids

Engine
Cooling system
Brakes
Transmission
Air conditioning
Interactive Fault Finder
This tool will help diagnose more than 400 problems. Type the details of your issue in plain English and receive back a range of suggestions to resolve the issue. Or, search by vehicle system or commonly requested solutions.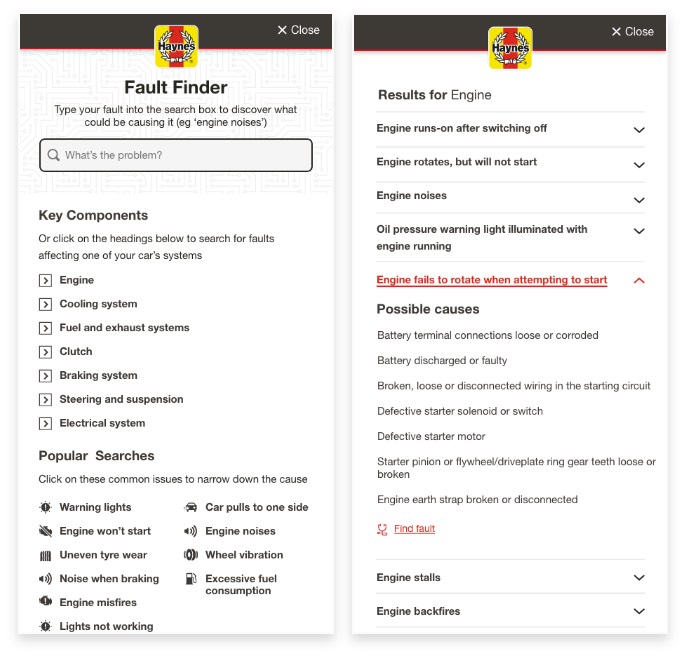 DIY tutorials
The experts at Haynes have compiled 50+ tutorials on tasks that range from changing the oil to replacing a timing belt. Use these DIY friendly guides alongside the data for your vehicle to complete the job correctly first time.
Guides include tools needed, level of difficulty, common problems and expert tips. We'll even suggest other jobs to take on in conjunction with the one you have chosen.
More content is added continually to ensure you are covered for every job!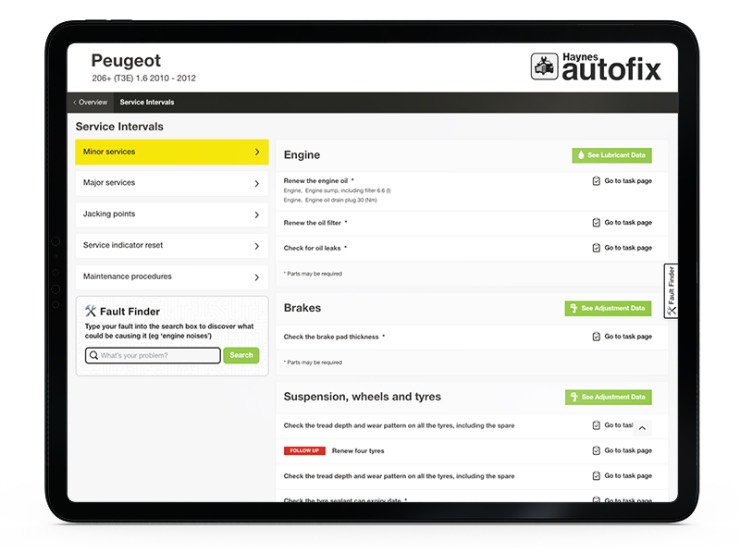 Videos
In addition to comprehensive data, diagrams and written tutorials, a wide range of instructional videos are available to view. Understand your job quickly and learn the best way to tackle each one.
More content is added continually to ensure you are covered for every job!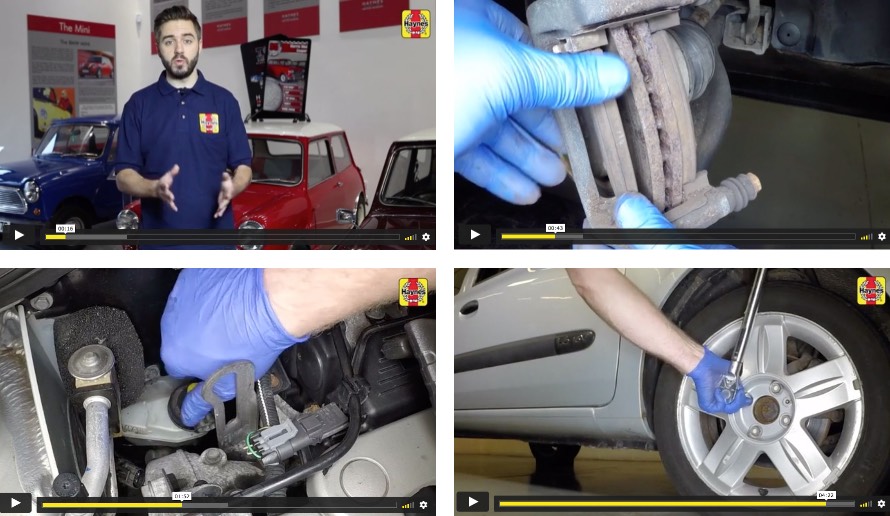 Technical Drawings
View super-high-quality diagrams of key components, with exploded views. Each one details the torque setting of every fitting.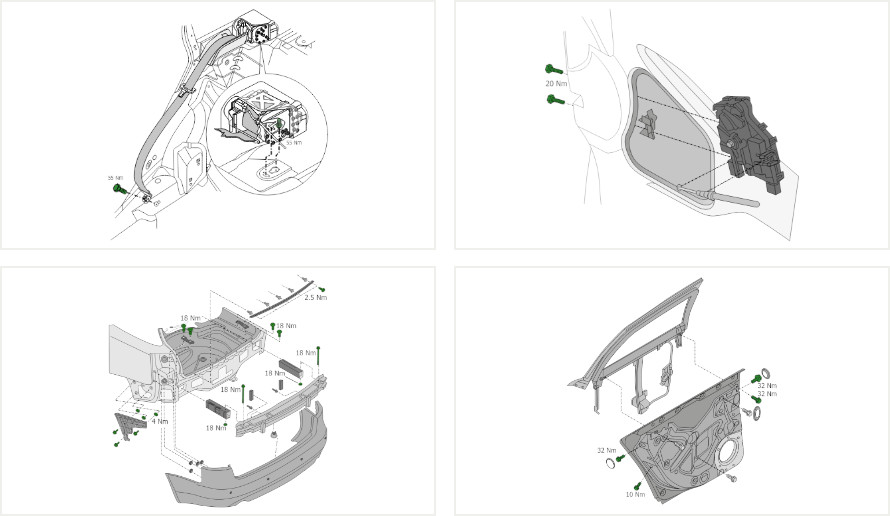 Electrical
Warning lights

Complete guide to every common warning light and how to respond

Fuse locations

Fully illustrated guide to locating each fuse

Comfort Wiring Diagrams -

coming Summer 2021!

Clear, "localised" wiring schematics for key vehicle features, with wire and component trace functionality for fast, efficient, first-time fixes.
Includes pan and zoom functionality
Highlight feature to trace corresponding wires and components
Includes:

Air conditioning
Central locking
Exterior lights
Horn
Instrument cluster
Power windows
Starting/charging
Supplemental restraint system (SRS)/Airbag
Wash/wipe system

Existing subscribers will get the new content added for free when launched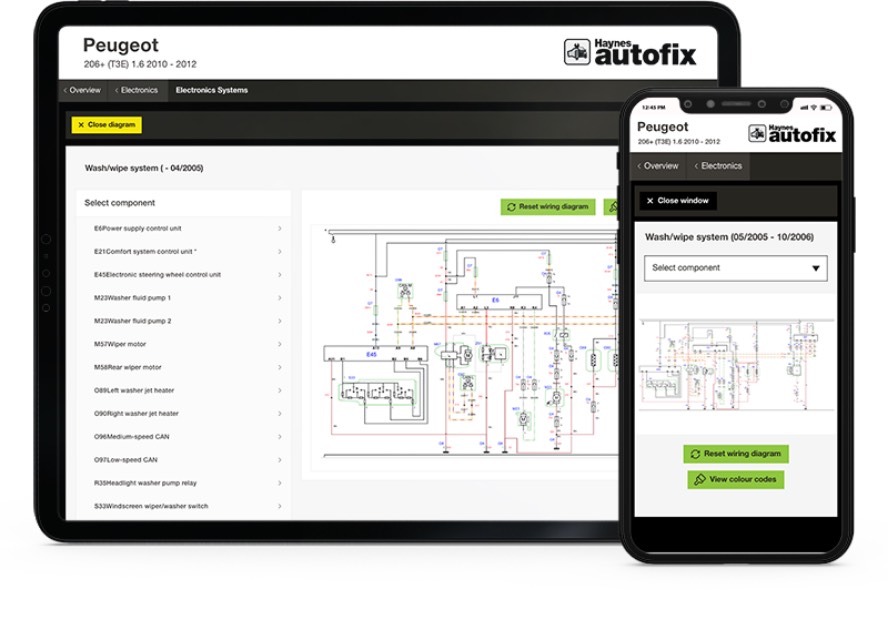 Diagnostics
Electronic diagnostics -
coming Summer 2021!
A world-leading diagnostics application, now available for DIYers
Wiring diagrams for engine management, ABS, ESP and air conditioning
Retrieve data from the vehicle's engine management/ CAN-Bus system to diagnose faults and component errors which have generated fault codes
Enter fault codes and see their description with suggested components to test
*Existing subscribers will get the new content added for free when launched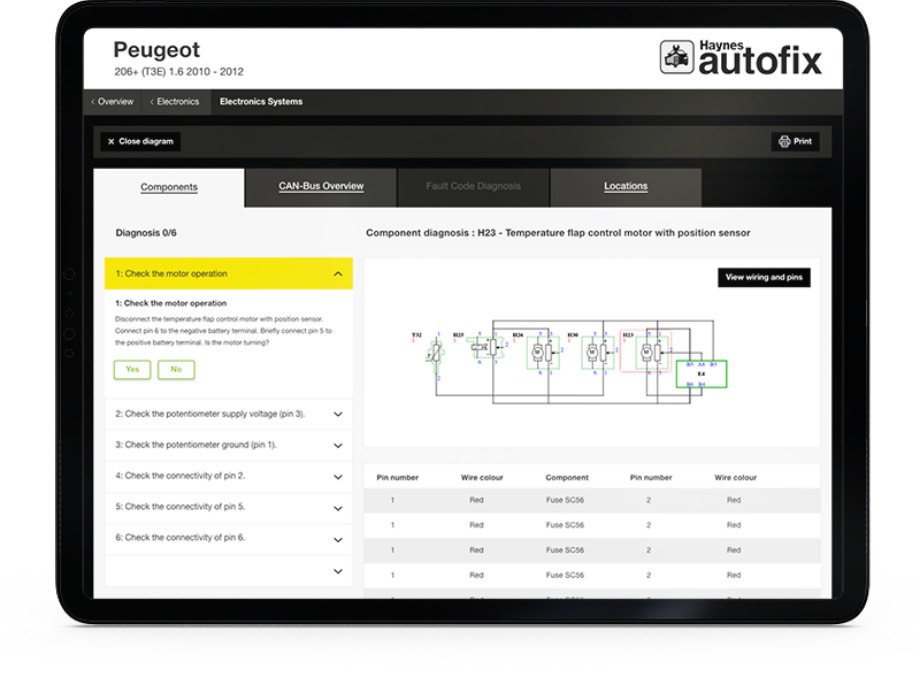 The classic Haynes Repair Manual
- Based on a complete stripdown and rebuild of a vehicle
700+ pictures of your vehicle
Extra videos in online manual
For all levels of DIY ability
This is an online only product
What's Covered
Contents, Safety First!, Roadside repairs, Weekly checks
Chapter 1 : Routine maintenance and servicing
Chapter 2A : SOHC (8-valve) in-car repair procedures
Chapter 2B : DOHC (16-valve) 1.4L in-car repair procedures
Chapter 2C : General engine removal and overhaul procedures
Chapter 3 : Cooling, heating and ventilation systems
Chapter 4A : Fuel and exhaust systems
Chapter 4B : Emission control systems
Chapter 5A : Starting and charging systems
Chapter 5B : Ignition system
Chapter 6 : Clutch
Chapter 7 : Manual gearbox
Chapter 8 : Driveshafts
Chapter 9 : Braking system
Chapter 10 : Suspension and steering
Chapter 11 : Bodywork and fittings
Chapter 12 : Body electrical systems, Wiring diagrams, Reference
Exclusions
Exclusions:
Does NOT cover 'Dualogic' transmission, Abarth, Van or 2006/2007 Punto 'Classic'.
Does NOT cover 'T-Jet', 'TwinAir' or 'Multiair' petrol engines, diesel models or dual-fuel models.
About Haynes Manuals
Online Manual
N.b. this is not a printed product
NB: this is not a printed product.
With Haynes Manuals Online you get all the trusted content of a printed Haynes Owners Workshop Manual but with additional features to help you get the job done. Haynes takes automotive DIY into the digital age with this new product which provides the following benefits:
• All-colour photographs with approx. 750 featuring in each product.
• Photos can be enlarged so you can view key details.
• All-colour wiring diagrams to help track problems quickly and easily.
• Videos providing highlights of common DIY tasks.
• Easy search functionality featuring 'instant display'.
• Dictionary of automotive terms.
• Hyperlinks to additional relevant information in other manual chapters.
• Quick links are provided to take you to the most popular DIY tasks.
• Troubleshooting section allowing you to quickly ascertain the cause of a particular problem.
• Conversion calculator for imperial and metric units.