Buy manuals for X-Type (2001 - 2011)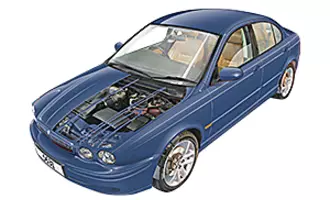 Jaguar
X-Type (2001 - 2011)
The Jaguar X-Type was introduced in February 2001 as the 'baby Jag'. It was loosely based on parent company Ford's Mondeo platform. It was initially launched with 2.5- and 3.0-litre V6 petrol engines, and then in June 2003 a 2.0-litre diesel engine was added to the range. In August 2005, a 2.2-litre version was launched. In January 2004 an Estate version was launched. The X-type was launched with four-wheel drive, but front-wheel-drive versions were offered from December 2001. The steering is power-assisted, and most models will be equipped with an electronic stability program (ESP). Maintain the X-type well and it should stay reliable and economical.

Compare versions of this manual
Choose the Haynes manual that is right for you
New!
OnDemand

video content now available for your vehicle
Step-by-step maintenance and repairs guides for your vehicle in three formats.

Haynes OnDemand

Step-by-step video tasks & original manual content
Printed manualThe original and best, delivered to your door
Online manualA feature-loaded digital edition of the original manual
Maintenance Simple weekly checks and servicing guides to keep you on the road
Free
Printed manual
Digital manual
One-job Exclusive video and original manual content on popular repairs
£1.99
Printed manual
Digital manual
Video collection All our videos and original manual content on 15+ popular tasks
£5.99
Printed manual
Digital manual
Servicing Complete, fully illustrated step-by-step guides
40+ jobs
200+ jobs
200+ jobs
Fault codes Pinpoint specific problems easily
Haynes OnDemand
Printed manual
Digital manual
Easy search Find the task you are looking for quickly
Haynes OnDemand
Printed manual
Digital manual
Print-at-home Take the sections you need to the workshop
Haynes OnDemand
Printed manual
Digital manual
Wiring Easy-to-read electrical diagrams
Haynes OnDemand
Printed manual
Digital manual
All-colour Which can be enlarged in one-click
Haynes OnDemand
Printed manual
Digital manual

HaynesOnDemand

Step-by-step video tasks & original manual content

Free & paid for videos


Printed manual

The original and the best, delivered to your door

Online manual

All the content of a printed manual, plus much more
There are 30 OnDemand procedures available for your vehicle! Explore now >>>