Land Rover Freelander (2006 - 2014)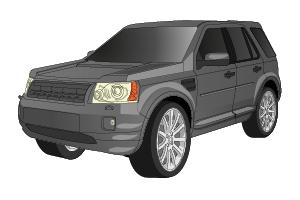 Complete coverage for your vehicle
Written from hands-on experience gained from the complete strip-down and rebuild of a Land Rover Freelander, Haynes can help you understand, care for and repair your Land Rover Freelander. We do it ourselves to help you do-it-yourself, and whatever your mechanical ability, the practical step-by-step explanations, linked to over 900 photos, will help you get the job done right. Regular servicing and maintenance of your Land Rover Freelander can help maintain its resale value, save you money, and make it safer to drive.
What's covered
What's covered:
Turbo-Diesel:
Land Rover Freelander 2 (2WD) 2.2 litre (2179 cc) (2006 - 2014)
Land Rover Freelander 2 (4WD) 2.2 litre (2179 cc) (2006 - 2014)
Exclusions:
Does NOT cover petrol engine models
Table of contents
Contents
Safety First!, Roadside repairs, Weekly checks
Chapter 1A : Routine maintenance and servicing
Chapter 2A : Engine in-car repair procedures
Chapter 2B : General engine removal and overhaul procedures
Chapter 3 : Cooling, heating and ventilation systems
Chapter 4A : Fuel and exhaust systems
Chapter 4B : Emission control systems
Chapter 5A : Starting and charging systems
Chapter 5B : Pre-heating system
Chapter 6 : Clutch
Chapter 7A : Manual gearbox
Chapter 7B : Automatic gearbox
Chapter 7C : Transfer case
Chapter 8 : Driveshafts, propeller shaft and final drive
Chapter 9 : Braking system
Chapter 10 : Suspension and steering
Chapter 11 : Bodywork and fittings
Chapter 12 : Body electrical systems, Wiring diagrams, Reference
Print manual
More details
About
The second-generation Land Rover Freelander, was introduced in December 2006, with a choice of a 2.2-litre 4-cylinder turbodiesel engine, or a 3.2-litre straight-6 petrol engine. It was only ever available as a 5-door hatchback, and at launch was available with permanent four wheel drive only. In January 2011, a front-wheel-drive version was added to the range, appealing to owners who rarely ventured off road. The Freelander 2 has high ground clearance, power-assisted steering, and fully independent suspension front and rear, making it a capable off-road performer, as well as competent on Tarmac.