MG MGB GT Coupe (1962 - 1980)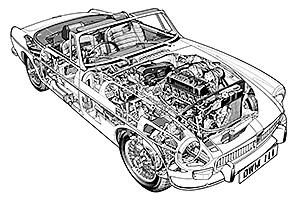 Complete coverage for your vehicle
Written from hands-on experience gained from the complete strip-down and rebuild of a MG MGB GT Coupe, Haynes can help you understand, care for and repair your MG MGB GT Coupe. We do it ourselves to help you do-it-yourself, and whatever your mechanical ability, the practical step-by-step explanations, linked to over 900 photos, will help you get the job done right. Regular servicing and maintenance of your MG MGB GT Coupe can help maintain its resale value, save you money, and make it safer to drive.
What's covered
What's covered:
MGB Haynes Repair Manual for 1962 thru 1980 Roadster and GT Coupe models
PLEASE NOTE that this manual is intended for vehicles built to US specifications and do not cover diesel models unless specifically stated. Although it is useful when the products or systems are similar to those in other markets, there may still be significant differences, especially in areas concerned with safety and emission control.
Exclusions:
Does not cover MGB GT V8 models
Table of contents
Introduction
Chapter 1: Engine
Chapter 2: Cooling system
Chapter 3: Fuel, exhaust and emission control systems
Chapter 4: Ignition system
Chapter 5: Clutch
Chapter 6: Gearbox, overdrive and automatic transmission
Chapter 7: Propeller shaft
Chapter 8: Rear axle
Chapter 9: Braking system
Chapter 10: Electrical system
Chapter 11: Suspension and steering
Chapter 12: Bodywork and fittings
Wiring Diagrams
Print manual
More details
About
MG launched the MGB in 1962 as a rival to sports cars such as the Triumph TR series. It was released initially as a two-seat convertible (although an occasional rear seat could also be specified), before the two-plus-two MGB GT coupe came along in 1965. All were powered by the 1.8-litre BMC B-series engine, which produced around 95bhp. Drive as sent to the rear wheels through a four-speed manual gearbox, although an optional overdrive was also offered. Cosmetic and trim tweaks continued throughout the car's life but mechanically it remained largely the same. At Haynes, we have an extensive range of MG repair manuals and online maintenance procedures available for professional mechanics and DIY car enthusiasts. Our repair manual for the MGB and MGB GT is here to help you through every stage of servicing or fixing your car.