Ford Capri (1974 - 1987)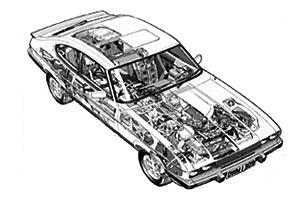 Complete coverage for your vehicle
Written from hands-on experience gained from the complete strip-down and rebuild of a Ford Capri, Haynes can help you understand, care for and repair your Ford Capri. We do it ourselves to help you do-it-yourself, and whatever your mechanical ability, the practical step-by-step explanations, linked to over 900 photos, will help you get the job done right. Regular servicing and maintenance of your Ford Capri can help maintain its resale value, save you money, and make it safer to drive.
What's covered
What's covered:
Coupe.
Petrol: 1.6 litre (1593cc) and 2.0 litre (1993cc).
Print manual
More details
About
On the 25 February 1974, the Capri II was introduced. After 1.2 million cars sold, and with the 1973 oil crisis, Ford chose to make the new car more suited to everyday driving with a shorter bonnet, larger cabin and the adoption of a hatchback rear door. By the standards of the day, the Capri II was a very well evolved vehicle with very few reliability issues. At Haynes, we have an extensive range of Ford repair manuals and online maintenance procedures available for professional mechanics and DIcar enthusiasts. Our Ford Capri II repair manual will help you at each stage of servicing or fixing your car.