Buy manuals for Vectra (2005 - 2008)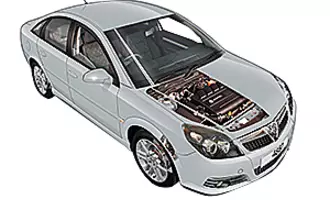 Opel
Vectra (2005 - 2008)
The second-generation Vauxhall Vectra appeared in 2002 and was facelifted in October 2005, which we cover here. A variety of engines was available, comprising 1.6-, 1.8-, 2.0-, 2.2- and 2.8-litre petrol engines and 1.9- and 3.0-litre diesels. The Vectra was available in 4-door saloon, 5-door hatchback and 5-door estate bodystyles. Depending on engine, the standard gearbox was either a 5- or 6-speed manual, with a 5- or 6-speed auto available as an option. An 'Easytronic' manual/automatic transmission, optionally available on certain models. Standard equipment includes power steering, air-conditioning, remote central locking, and electric windows. For the home mechanic, the Vectra is a relatively straightforward vehicle to maintain. At Haynes, we have an extensive range of Vauxhall repair manuals and online maintenance procedures available for professional mechanics and DIY car enthusiasts. Our repair manual for the Vauxhall Vectra is here to help you through every stage of servicing or fixing your car.


Compare versions of this manual
Choose the Haynes manual that is right for you
New!
OnDemand

video content now available for your vehicle
Step-by-step maintenance and repairs guides for your vehicle in three formats.

Haynes OnDemand

Step-by-step video tasks & original manual content
Printed manualThe original and best, delivered to your door
Online manualA feature-loaded digital edition of the original manual
Maintenance Simple weekly checks and servicing guides to keep you on the road
Free
Printed manual
Digital manual
One-job Exclusive video and original manual content on popular repairs
£1.99
Printed manual
Digital manual
Video collection All our videos and original manual content on 15+ popular tasks
£5.99
Printed manual
Digital manual
Servicing Complete, fully illustrated step-by-step guides
40+ jobs
200+ jobs
200+ jobs
Fault codes Pinpoint specific problems easily
Haynes OnDemand
Printed manual
Digital manual
Easy search Find the task you are looking for quickly
Haynes OnDemand
Printed manual
Digital manual
Print-at-home Take the sections you need to the workshop
Haynes OnDemand
Printed manual
Digital manual
Wiring Easy-to-read electrical diagrams
Haynes OnDemand
Printed manual
Digital manual
All-colour Which can be enlarged in one-click
Haynes OnDemand
Printed manual
Digital manual

HaynesOnDemand

Step-by-step video tasks & original manual content

Free & paid for videos


Printed manual

The original and the best, delivered to your door

Online manual

All the content of a printed manual, plus much more
There are 19 OnDemand procedures available for your vehicle! Explore now >>>