Whether it's a shed, deck, gazebo or greenhouse – new structures can transform your garden from a muddy patch into a stylish outdoor room, potentially adding thousands of pounds to the value of your home and boosting its kerb appeal.
Spring is the ideal season to get building, and if you're inspired by the ideas below, you'll find full easy-to-follow instructions and simple step-by-step advice in the Haynes Garden Buildings Manual.
Timber Decking
Timber decking is themust-have accessory in UK gardens. Before 1997, few Brits had heard of it – then Ground Force arrived on the BBC and sparked a makeover revolution.
It's said that in 1997, one of Britain's biggest DIY retailers sold just £5,000 worth of decking – but by 2001, sales had risen to £16million as audiences of 12million tuned-in to watch Alan Titchmarsh, Charlie Dimmock and Tommy Walsh deck the nation's plots.
Seventeen years later, decking remains the number one choice for contemporary gardens as well as traditional plots. Timber blends-in with plant-filled flower borders while decking is an effective solution for sloping sites.
Home improvers often use decking alongside trendy bi-folding doors, helping to smooth the transition between living room and garden. If your garden is south-facing, a deck maybe ideal at the rear of your house.
However, owners of north-facing or shady plots often build decks at the end of their garden, in the sunniest spot.
Deck timber is sold as soft or hardwood. Softwood is more common as it's better value for money; however, pricier hardwood offers rich colouring and a high-end finish.
Whatever you choose, check that timber has been pressure-treated with wood preservative. It should be capable of lasting a minimum of 15 years.
Most decks don't need planning permission, although there are exemptions – such as if a deck is at first floor level or above, exceeds 3m in height or is within 20m of a highway (visit the Timber Decking and Cladding Association's website at www.tdca.org.uk  for details
Greenhouse
A greenhouse can transform gardening from a seasonal hobby into a year-round pastime. It enables gardeners to sow flowers and vegetables much earlier in the season and carry on gardening late into autumn (or throughout winter, if you're prepared to heat your greenhouse).
The average greenhouse is 8x6ft – but always buy the biggest that you can afford: every gardener tends to run out of space under glass.
Aluminium-framed greenhouses are cheap to buy, relatively easy to build and long-lasting. Timber-framed houses are pricier and require maintenance, but are more attractive and can boast better heat insulation properties.
Most greenhouses come with standard horticultural glass, but if you have children, it's worth upgrading to toughened glass, for safety.
The golden rule is to site a greenhouse in the sunniest spot of your garden, ideally where it will bask in sunlight all day long. When choosing the location, consider services that will be required: do you need power for heating and lighting? Is it close to a water supply, or will you need to install gutters, downpipes and water butts?
A greenhouse should sit on a sturdy base of paving slabs or concrete, with its metal or wooden frame secured to the base using bolts. This is essential to stop it shifting in high winds which can result in broken glass and a mangled frame.
Remember that most greenhouses are externally glazed, so leave enough space for access to all sides – for maintenance and for applying shading to stop plants scorching in summer.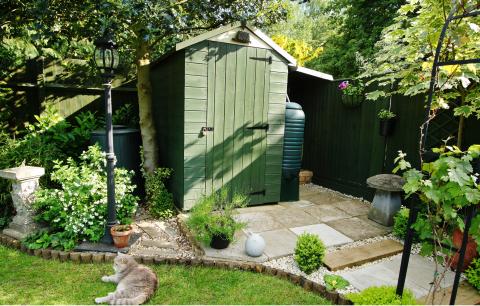 Garden Shed
A shed is vital for protecting tools and gardening equipment from the weather – and securing kit to prevent thefts. The majority of sheds in the UK are made of timber but composite (plastic) sheds are rising in popularity, although their looks don't appeal to everyone.
Apex sheds are the most common design but pent and lean-to structures are ideal where space is at a premium.
Cheaper wooden sheds come with feather-edged or overlap cladding which offers value for money but can deteriorate over time. Such structures are unlikely to be strong enough to allow heavy-duty shelving to be attached to internal walls.
Shiplap cladding is more costly but is often stronger, more weather-resistant and looks attractive. The most expensive sheds and summerhouses are likely to have tongue and groove cladding which doesn't warp and provides maximum security.
All shed roofs should be covered with quality roofing felt which must be secured to the timbers to prevent water ingress.
Sheds must stand on concrete or firmly-laid paving slabs, and never on earth or grass. Ideally, set the shed on treated timber joists (or use bricks or blocks) to allow air flow under the structure and keep the base dry. It'll reduce the risk of rot and extend the shed's life.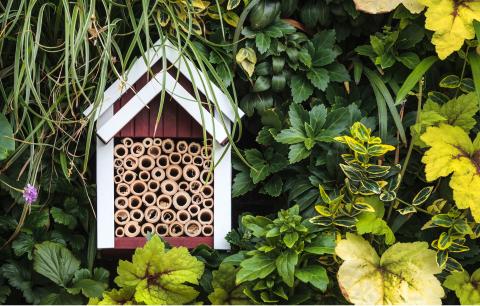 Wildlife Houses
Estimates suggest are now fewer than a million hedgehogs left in the UK, compared to more than 35 million in the 1950s. Many species of wild birds declined by at least 50 per cent between 1970 and 1999.
Beneficial pollinators are in trouble, too. While experts argue whether this is due to climate change, pesticides or loss of urban habitats, gardeners can help to reverse this worrying trend.
Insect hotels (also called insect hibernacula) are easy to make from recycled materials and provide attractive garden habitats for pollinating insects.
Simple-to-build hedgehog homes provide summer shelter and winter hibernation habitats, and bird nesting boxes will help feathered friends raise their young in safety from predators.
Don't forget, you'll find detailed guides on how to build all these wildlife homes in the Haynes Garden Buildings Manual.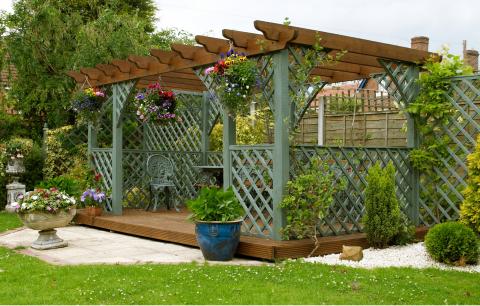 Gazebos and Pergolas
Gazebos and pergolas add height and structure to gardens, providing privacy in overlooked plots or a sheltered corner to sit and enjoy a drink under a canopy of plants.
Pergolas are shaded walkways or sitting areas made from a series of vertical posts and cross beams, often clad with woody plants and climbing roses. Pergolas are often sited immediately behind sun-baked south-facing properties in the UK, or at the sunny end of shady north-facing gardens.
However, gazebos, which are often octagonal structures, can be located anywhere in the garden as an attractive feature, providing support for climbing plants and a place to relax and enjoy the garden.