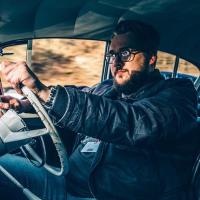 About the author
Chris Pollitt is an award-winning automotive word-wrangler, editor of the website Not 2 Grand and a keen collector of crappy old cars.
Are you going on your holidays? Taking the car for a trip into Europe perhaps? Well good for you, we're sure you'll have a lovely time. But do consider the fact it's not just your swanning trunks and sun cream you'll need to pack.
The car will need some luggage too, not only to satisfy the legal needs of the countries you may be travelling through, but also to make things easier for you and the family should you encounter trouble. Trust us, make space for these bits and bobs and you'll have a very happy holiday indeed. 
01 Spare tyre
Yes, you may well want to save space for the cheap booze or extra baggage, but trust us, a spare wheel is a must. Many modern cars don't come with one, instead favouring inflation kits. They will get you out of trouble, granted, but they're only a temporary fix.
Then you've got to find somewhere that has your tyre in stock, then you have the language barrier, then you have the time lost to do all this. If you make sure you have a full-size spare on board, you'll have a 15 min delay, rather than hours and hours.
02 Basic tool kit
You're here, on the Haynes website, so we can assume you're willing to jump on the spanners some something mechanical go awry. That said, you can only do so if you have spanners in the first place. So pack a small tool kit.
Nothing to technical, screwdrivers, spanners, sockets and maybe some repair bits like cable ties, bulbs, duct tape, that sort of thing. If you're in the middle of nowhere and you break down, it's better to be able to at least MacGyver your way out than be stuck indefinitely. 
03 Breathalysers 
If you're heading into Europe the chances are you're going to be driving to or through France, and if that's the case, you need to have breathalysers in the car. This is a legal requirement, though if you don't have one, you'll just be told off rather than fined. A reusable, digital breathalyser may seem like a good idea, but it's actually a bit of grey area. Best to go with a pack of single use breathalysers, as it's easier to prove that they haven't been used/tampered with. 
04 High visibility jackets
Again, this is a legal requirement and there will be a fine if you're found in a situation here you need them but don't have them. And we're not just talking about the driver here. All passengers in the car are required to have them and, in the event of a breakdown, wear them.
Frankly, they only cost a couple of quid and being safe on the roadside is just common sense, so don't be a dummy. Make sure you have some. It's not exactly a bad thing to have, even here on home soil. 
05 Beam breakers
UK/right-hand drive cars have their headlamps set in such a way that they don't dazzle oncoming cars. So, if you take a right-hooker and put it on left-hand drive roads, it doesn't take a rocket scientist to work out what's going to happen.
As such, you need beam breakers. They simply stick onto your headlights and block a small portion of the light (with no detrimental effect to the light output) preventing them from dazzling oncoming European motorists. Run without them and you can expect a considerable fine if caught. 
Finally, here's a checklist which covers what you need for driving in France, your gateway into Europe. Make sure you have it all, as well as what's mentioned above and you'll be set. 
Full driver's licence
V5C
Insurance note with proof od European cover
Passport/ID
Two NF certified breathalysers
High-visibility jackets for all passengers
Warning triangles
Headlamp beam-breakers
GB sticker (non GB-euro symbol plates only)