Many gardeners dream of owning a quintessentially English bowling green-striped lawn, but the reality is a muddy patch that's full of moss and weeds. Haynes has the ultimate guide to transforming your turf so it's in tip-top condition in time for summer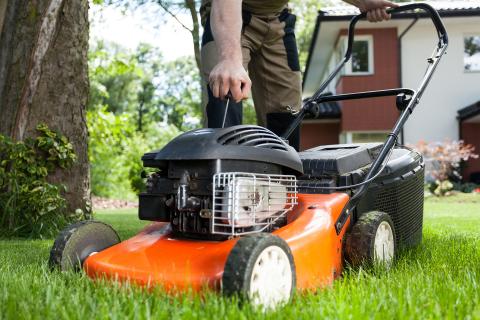 01 Service your mower
You wouldn't drive your car year-after-year without changing the oil and filter, so why neglect your lawnmower? Petrol models will benefit from a service, but even low-maintenance electric or battery-powered mowers will need to have their blades sharpened or replaced so they make a clean, neat cut.
Scrape dried mud and grass from the cutting compartment and remove debris from wheels and rear rollers. For mains-powered mowers, check the entire length of cable for breaks and damage and have the flex replaced if it shows any signs of wear.
If you don't already own a plug-in circuit breaker (RCD), invest in one immediately – most cost a tenner or less. They'll cut the power in a fraction of a second if you accidentally mow over the cable, so this simple device could prevent you from coming a-cropper.
Learn to maintain your mower so it gives years of trouble-free service with the Haynes Lawnmower Manual.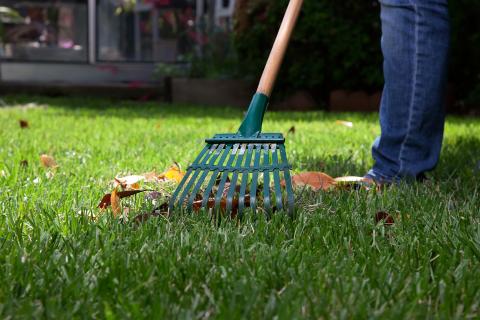 02 Rake-up winter debris 
Before you set foot on the lawn, look at it closely: chances are it's covered in debris from winter storms: twigs, branches, worm casts, stones and the remains of last November's fireworks. A lawnmower is not a Hoover and will not take kindly to being used as such.
A wide plastic rake is ideal for gathering-up wind-blown mess before you mow, and once it's cleared, you'll be able to see which parts of your lawn are crying out for a little TLC.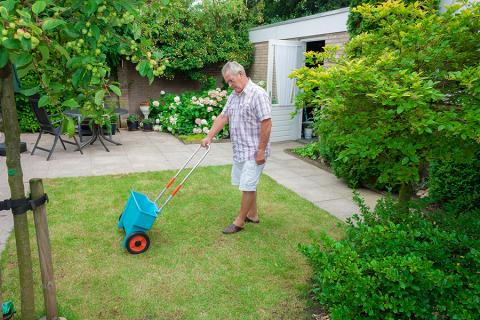 03 Apply a spring feed and weedkiller
All established lawns will benefit from a spring weed 'n' feed. Winter rain and melting snow will have helped nutrients to leech from the soil, leaving pale-green, weak turf. April is the month where yellowy patches of moss starts to stand out – but all good quality lawn feed and weedkillers will tackle moss (you'll see it turn black) within a week of application.
For small lawns, most lawn feed/weed products come with an applicator to distribute the granules over turf as you walk – but for bigger lawns, a fertiliser dispenser will help to evenly distribute the product. To avoid scorching turf, only apply lawn feed/weed products a week after a lawn has been cut.
Apply on a dry day, but when rain is forecast in coming days, to water the product into the turf. If no rain falls within a week, you may have to use a hose to water it in.
Only use spring weed/feed products: those intended for autumn use are formulated to strengthen roots for over-wintering and not to encourage fresh green growth.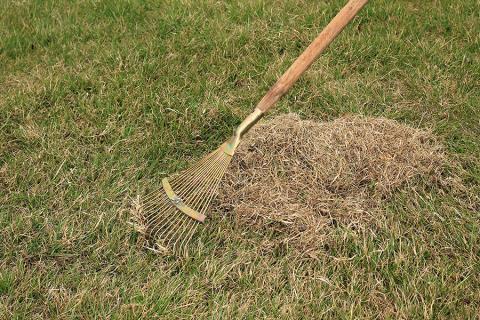 04 Rake out moss
A week or so after moss-killing treatment, when moss has visibly died, it can be pulled out using a metal spring rake, often known as a 'springbok' rake. This is a job that takes its toll on your back, so do small areas at a time, unless you fancy a visit to a chiropractor.
Heavier raking, known as scarification, is best left until autumn, when a powered scarifier will pull out moss and dead grass (known as thatch) that has accumulated over summer.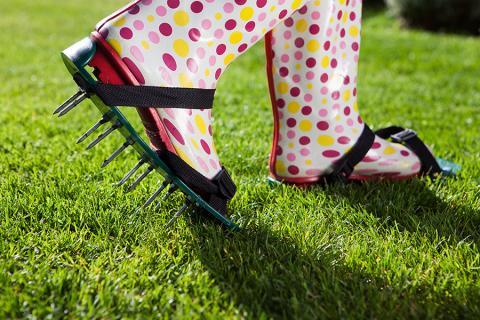 05 Aerate the soil 
One of the biggest causes of moss is badly drained soil. Aerating your lawn – the process of spiking it to help with drainage, makes it a less accommodating environment for moss to take hold. It relieves soil compaction, too, allowing air, water and nutrients to reach turf roots.
You can even buy spiked aerating shoes (pictured) but many gardeners opt to use a lawn aerator, which costs about £20. If your turfed area is small, a garden fork will do the job – wearing steel toecap boots while spiking the lawn is advisable! 
06 Give the lawn a trim
A survey by mower maker Cub Cadet found that the most popular date to give the lawn its first cut of the season is 26thMarch and that the mowing season lasts, on average, for 233 days, until 2ndNovember.
However, even in April, if the lawn is waterlogged or frozen, don't even think about walking on it, let alone cutting. If conditions are good and the grass is actively growing, raise the height of the mower's blades by a notch or two and give it a trim.
The blades can be lowered again in May to give a closer cut, when the grass is actively growing and the risk of frost is reduced.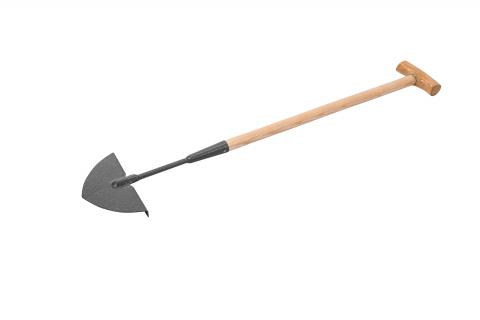 07 Tidy lawn edges
Trimming lawn edges helps to define borders and enhances the appearance of your lawn. You can make a clean cut along the edge of borders using a garden spade, but a half-moon edging iron is ideally suited to the job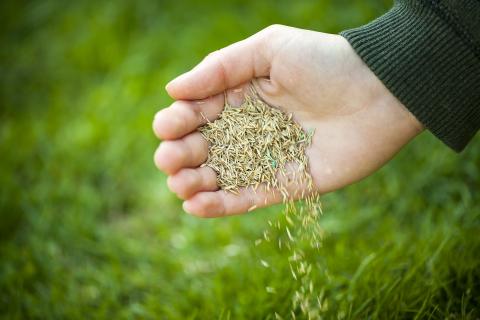 08 Overseed your turf
If your turf is still looking a bit sparse, overseeding can help to create a thicker, healthier lawn. Buy a quality lawn seed, ideally one with a promise of rapid germination, and apply it at half the sowing rate given for new lawns. Water it in well but don't flood the area, or seed will be washed away or into heaps.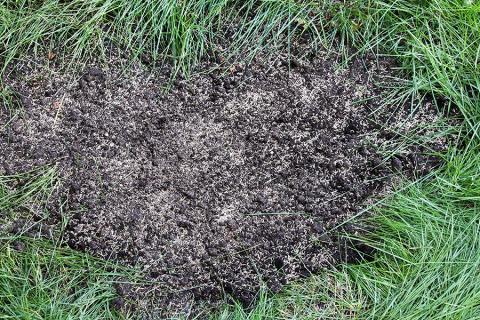 09 Treat bare patches
Bare patches can be treated by gently raking the soil (or adding a little topsoil), sprinkling on a dusting of lawn seed, lightly firming it in and watering. For convenience, products such as Miracle-Gro Patch Magic contain grass seed, feed and coir in a bottle which can simply be poured into a hole or patch for an easy quick-fix.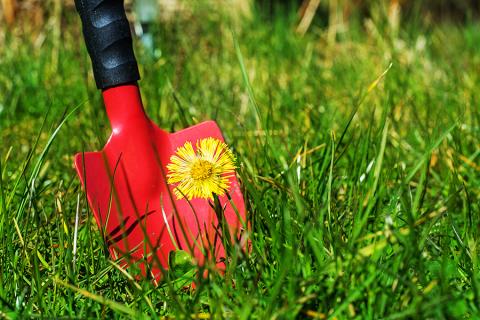 10 Spot treat weeds
While lawn weed 'n' feed products will easily wipe out the likes of moss and clover, large broad-leaved weeds may survive. You can either dig these out with a trowel (remove as much of the root as possible) or use a lawn weed killer to spot treat eyesores such as daisies, greater plantain, creeping buttercup, ground ivy and sheep's sorrel. Never use general purpose weedkillers because they'll wipe out your lawn as well as the weeds.