Nothing dates faster than in-car technology. For proof, simply check out the media system in any given 10-year-old car. It will look absolutely ancient. In terms of functionality, it will be utterly old hat, too.
Meanwhile, smartphone technology continues to develop at breakneck speed. So fast, in fact, that in-car technology cannot keep up. Consequently, the media systems in even the latest cars can fall short of the power and functionality a new smartphone.
But what if there was a way of combining the two, a way to put cutting-edge smartphone tech into cars old and new, but also to optimise it for drivers and ensure it's safe to use on the move? Actually, there is. It's called Apple Carplay.
There's a similar technology known as Android Auto for smartphones based on Google's Android operating System, but CarPlay is all about Apple's iPhone handsets.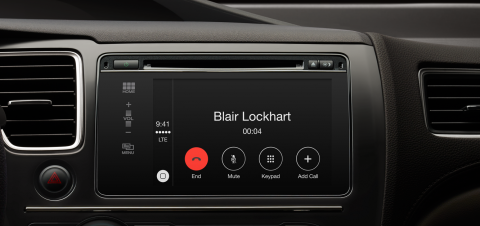 What do you need to use CarPlay?
Two things: A compatible car media system and an iPhone. In terms of the latter, CarPlay is compatible with any iPhone from iPhone 5 onwards. When it comes to the car half of the equation, it's a little more complicated.
CarPlay support is now offered by most car manufacturers. It can vary by model, so it's best to check with the manufacturer regarding any new car. CarPlay was introduced in 2015, so any second-hand car built before 2016 is unlikely to have CarPlay support from the factory.
However, CarPlay can be added to many models via an aftermarket head unit like Pioneer's popular SPH-DA120. 
Apple's own list of CarPlay-compatible cars can be found here.
Save money fixing your car yourself with our wide range of manuals, in both digital and print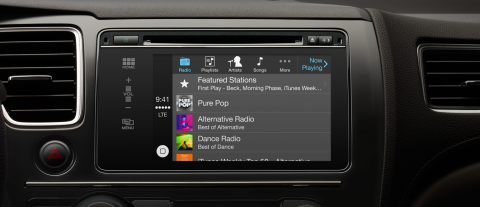 What can Apple CarPlay do? 
CarPlay's main functionality includes making calls, sending and receiving texts, navigation and music playback. And it does it all via a slick, car-optimised interface. And remember, the interface and the apps are primarily running on your iPhone.
It's the iPhone outputting onto your car's media screen. That means you car's media and navigation capabilities are largely dictated by your handset, not the car's equipment.
The other major string to CarPlay's bow is Siri support. Cars with Carplay support built-in from the factory typically allow access to Apple's voice-activated assistant via a voice control button on the steering wheel.
Aftermarket headunits like the Pioneer DA120 usually have a Siri button of their own.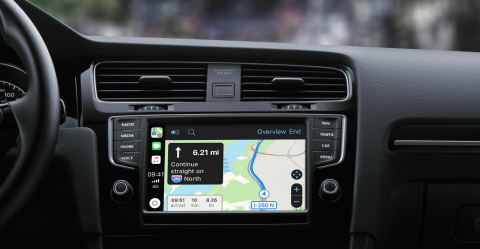 What apps does CarPlay support?
Due to safety concerns and the need to optimise any functionality for use in-car rather than on a handset, app availability is quite limited on CarPlay. Apple's own apps that appear in CarPlay include Apple Maps, Messages, Phone, Music, Podcasts and Audiobooks.
As for third party apps from the App Store, this is CarPlay's biggest weakness. Currently, a little over 30 apps are available on CarPlay. But almost all are audio playback apps including Spotify, Deezer, Tidal and a range of internet radio and podcast apps.
Notably, competing navigation apps such as Google Maps and Waze have not appeared on CarPlay.
While there are safety concerns that go along with using any app in-car, both Google Maps and Waze have been optimised for use in cars on the Android Auto platform.
So, such limitations on CarPlay are as much about Apple wanting to keep control of the platform as safety.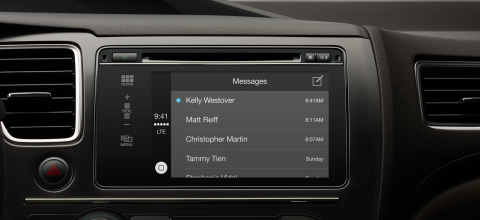 Anything else I need to know?
CarPlay connectivity for most existing cars and head units is via a standard Apple Lightning cable. However, in 2017 Apple updated CarPlay to support wireless Carplay connectivity.
Several aftermarket headunits now support wireless CarPlay as do multiple car manufacturers.
However, note that updating existing wired CarPlay systems to support wireless connectivity typically isn't possible.