With fruit and veg supplies proving erratic at supermarkets, it's important that you still eat as many of your five-a-day as you can. So why not grow your own at home and be self-sufficient? Most crops can be started off on a windowsill – and some can even be harvested there. Haynes shows you how.
The Coronavirus has caused all manner of food supply issues at supermarkets, with social distancing measures and panic-buying meaning shoppers are having to queue to get in, only to find some shelves still empty. Even garden centres and plant nurseries - usually an excellent source of fruit and veg plants each spring - have had to shut down and destroy their stocks, with Alan Titchmarsh saying: "This spring could well bring about the end of British horticulture as we know it."
This has spurred many of us to think about growing vegetables from seed at home. But where do you start and how long do you have to wait before you can harvest your veg? You may be surprised how little time it takes.
Which veg grows fastest?
Although the majority of vegetables need a few months to go from seed to crop, there are a few exceptions. The most rapid are sprouting seeds which, as the name suggests, are harvested soon after the seeds have germinated. The most common types are sprouting seed alfalfa, beetroot, broccoli, mung bean, pea, rocket, daikon and sunflower. They can be on your plate in as little as a week – sometimes faster – and are highly nutritious, perfect for adding to salads and stir-fries. All you need is a glass jam jar, a piece of muslin or a J cloth and an elastic band.
Bearing in mind that the seeds will expand to several times their original size as they sprout, add a small quantity to the jar and submerge them in tap water. Now leave them to soak for 12 hours. Then securely attach the cloth and empty the jar over a sink, allowing the water to drain through the cloth. Now pour more tap water in through the cloth, rinse the seeds a couple of times before draining the jar and placing it on its side in a dark cupboard or drawer (to prevent the seedlings from photosynthesising and becoming bitter to taste) at room temperature. Rinse the seeds twice or three times a day to keep them fresh and hydrated. The seedling are usually ready to harvest when 1-2in (3-5cm) long. 
It'll probably be tricky to judge how many seeds you'll need to 'sow' the first time, so it's a good idea to have multiple jars on the go and make fresh sowings every couple of days to ensure a continuous supply.
Find out how to grow a host of vegetables and become completely self-sufficient with the Haynes' Allotment Manual.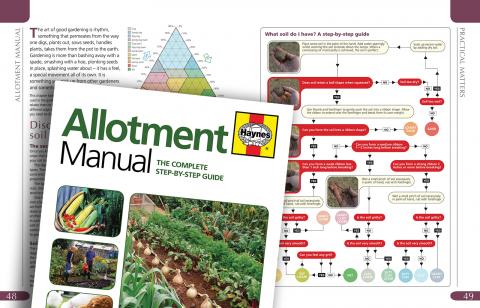 Are sprouting seeds the same as microgreens?
Not quite. Microgreen varieties tend to be chosen for their flavour and colour. They're sown in seed trays filled with seed compost (keep it damp with a hand-held spray bottle filled with tap water) and are kept on a well-lit windowsill but out of direct sunlight. They're then allowed to grow until their first pair of 'true' leaves (not to be confused with the 'seed' leaves, which appear first) have developed. This can take up to 14 days. They're then harvested with a pair of scissors. Examples include lemon balm, borage, coriander, dill, chives, mizuna, fennel, onion, Chinese cabbage and radish.
Leaf salads take a little longer – from around three weeks – and grow into the sorts of leaves you'll find in bagged salads in supermarkets. They include things like rocket, lambs lettuce, mustard, basil and cos.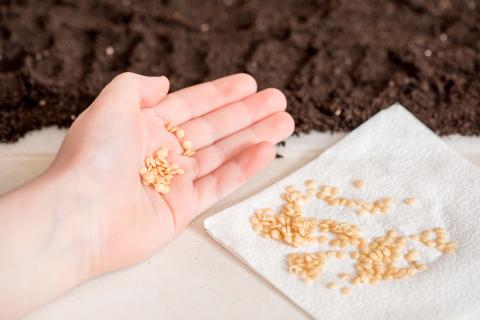 How do I grow tomatoes, potatoes and beans at home?
Everything from potatoes (which often need to be 'chitted' before you can plant them), tomatoes, peas, beans, sweetcorn, peppers, cucumbers, pumpkins and much more can be started off on the windowsill, ready for transplanting into pots or the ground later on. You can even start some of them off on a few sheets of paper towel on a plate (make sure it doesn't dry out). We've all grown beans in jam jars when we were at school and this is a great way of keeping the kids occupied – sow lots of different types of veg and get the kids to keep a diary of which seeds germinate first. Make sure the windowsill receives plenty of light but isn't in direct sunlight.
Transplant the seedlings into trays or pots of compost as soon as the first true leaves appear, gently handling the young plants by their leaves, not the stems, and using a pencil to create a planting hole. Then either allow the plants to grow on the windowsill, potting them on into larger containers filled with multipurpose compost, or move them onto a patio, balcony, greenhouse or the garden itself, depending on the plant's growing requirements. 
Where can I buy veg seed?
Your best bet is via mail order from the many seed companies we have in the UK. Bear in mind that their websites and ordering systems are suffering under the huge demand being placed on them: