Cars mean a lot to us. Whether it's a first car, a favourite car, or a car that holds a treasured memory from your childhood, cars are more than just a means of getting from A to B. Wouldn't it be amazing to be able to give someone a personalised gift that celebrates that special bond between a friend or loved one and their car?
Personalising a Haynes Manual could be that perfect gift – adding a photo of the specific car to the front cover of one of Haynes' world-famous Owner's Workshop Manuals, and including your friend or relative's name in the book title. You could even add the details of the car in the title, including its 'name'!
Well, you can now do all of the above and more – simply follow these steps and you'll have a personalised Haynes Manual to surprise and delight someone with this Christmas.
1. Head to Haynes personalisation page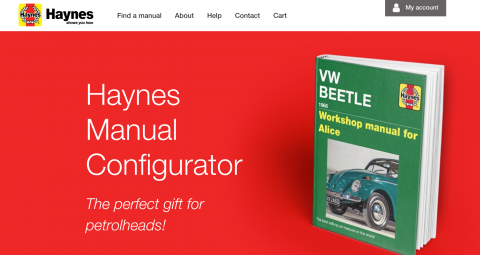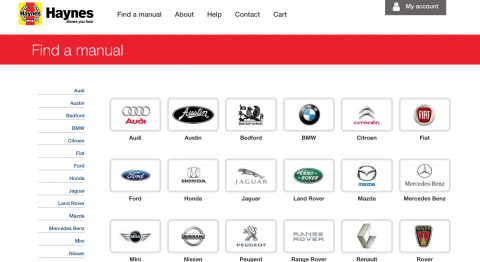 There are over 180 to choose from, and all contain exactly the same maintenance, diagnosis and repair information as Haynes' regular Owner's Workshop Manuals.
3. Upload an image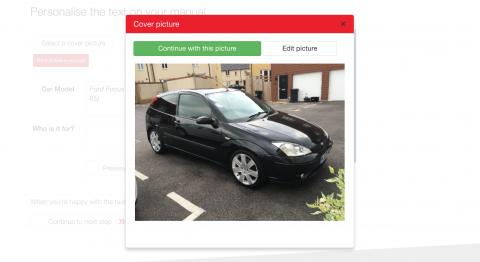 Next, upload an image from your computer or mobile device. You can resize the image after uploading, if required.
*Top tip: crop or resize your image prior to uploading in an image editor like Photoshop or Preview for best results. The minimum size recommended is 660x495 pixels at 180DPI, and recommended size ratio is 1088x825px (that is equivalent to a 10x7cm photo) at 300DPI.
4. Add your words and the recipient's name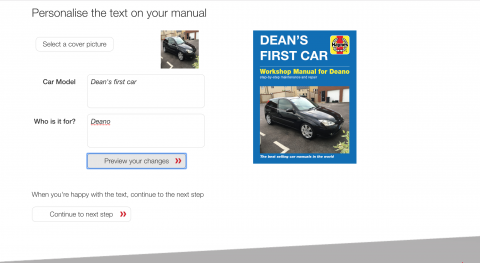 Type the specific car's type, name, a short message, or anything else you want in the 'Car Model' box, and the recipient's name in the 'Who is it for?' box, then preview the cover by pressing 'Preview your changes'. If you're happy, continue to the next step.
5. Enter a gift message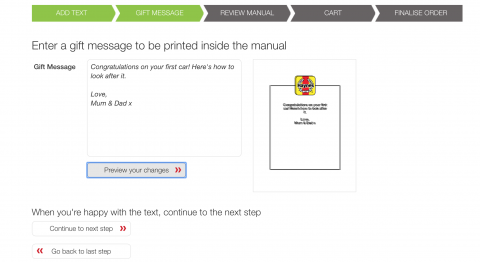 This will appear on the first page of the book. You can write a more personal message here.
6. Review and pay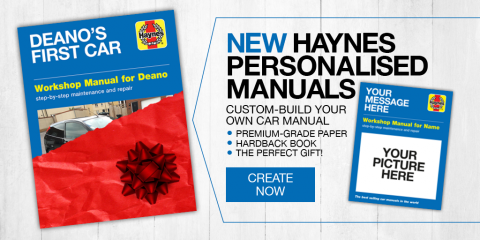 Once you've reviewed how the manual will look, enter your details, pay via secure transaction, and you'll receive your personalised Haynes Manual in around five days!
Haynes Personalised Manuals are printed on premium-grade paper with a hardback cover – the perfect gift for novice drivers, petrolheads and more.
Daughter passed her driving test? Best friend won a show-and-shine prize? Grandfather have special memories of a cherished old car? Now you can treat them to a unique Haynes Manual with their name and a photo of their treasured vehicle on the cover – and it contains all of Haynes' renowned maintenance, diagnosis and repair information and step-by-step guides.
Head to our online store to build your own Haynes Personalised Manual now.