Buy manuals for Aygo (2005 - 2011)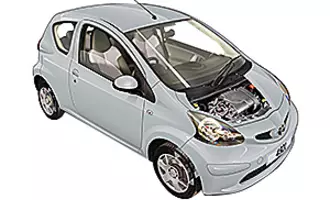 Toyota
Aygo (2005 - 2011)
The Toyota Aygo was introduced into the UK in June 2005, and was built in the same factory as the Peugeot 107 and Citroen C1. Largely designed by Toyota, using the new 1.0 litre, 3-cylinder VVT-i engine in all three vehicles.
Complementing the small yet spacious body is a small-capacity engine, which thanks to multipoint injection, four valves per cylinder and variable valve timing, manages to offer the performance of larger units. The engine is mounted transversely at the front of the car.
For the home mechanic, the Toyota Aygo is a straightforward car to maintain and repair, since design features have been incorporated to reduce the actual cost of ownership to a minimum, and most of the items requiring frequent attention are easily accessible. This Haynes Toyota Aygo manual will provide all of the information you need on routine maintenance and servicing, and give a logical course of action and diagnosis when random faults occur.

Compare versions of this manual
Choose the Haynes manual that is right for you
New!
OnDemand

video content now available for your vehicle
Step-by-step maintenance and repairs guides for your vehicle in three formats.

Haynes OnDemand

Step-by-step video tasks & original manual content
Printed manualThe original and best, delivered to your door
Online manualA feature-loaded digital edition of the original manual
Maintenance Simple weekly checks and servicing guides to keep you on the road
Free
Printed manual
Digital manual
One-job Exclusive video and original manual content on popular repairs
£1.99
Printed manual
Digital manual
Video collection All our videos and original manual content on 15+ popular tasks
£5.99
Printed manual
Digital manual
Servicing Complete, fully illustrated step-by-step guides
40+ jobs
200+ jobs
200+ jobs
Fault codes Pinpoint specific problems easily
Haynes OnDemand
Printed manual
Digital manual
Easy search Find the task you are looking for quickly
Haynes OnDemand
Printed manual
Digital manual
Print-at-home Take the sections you need to the workshop
Haynes OnDemand
Printed manual
Digital manual
Wiring Easy-to-read electrical diagrams
Haynes OnDemand
Printed manual
Digital manual
All-colour Which can be enlarged in one-click
Haynes OnDemand
Printed manual
Digital manual

HaynesOnDemand

Step-by-step video tasks & original manual content

Free & paid for videos


Printed manual

The original and the best, delivered to your door

Online manual

All the content of a printed manual, plus much more
There are 18 OnDemand procedures available for your vehicle! Explore now >>>