Triumph Speed Triple (1997 - 2004)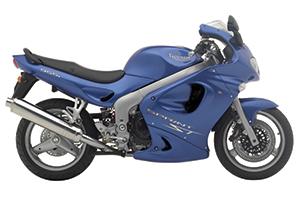 Complete coverage for your vehicle
Written from hands-on experience gained from the complete strip-down and rebuild of a Triumph Speed Triple, Haynes can help you understand, care for and repair your Triumph Speed Triple. We do it ourselves to help you do-it-yourself, and whatever your mechanical ability, the practical step-by-step explanations, linked to over 900 photos, will help you get the job done right. Regular servicing and maintenance of your Triumph Speed Triple can help maintain its resale value, save you money, and make it safer to ride.
Printed manual
Includes UK delivery and 1 year Online Manual
Choose the Haynes manual that is right for you with our complete comparison guide
Printed manualThe original and best, delivered to your door
Online manualA feature-loaded digital edition of the original manual
Maintenance schedule Simple weekly checks and servicing guides to keep you on the road
Printed manual
Digital manual
Comprehensive procedures Guide you through every step from minor adjustments to major overhaul
Printed manual
Digital manual
Fully illustrated With hundreds of photos
Printed manual
Digital manual
Hints and practical advice From the DIY experts provide inside information
Printed manual
Digital manual
Specifications and data Enable testing and measuring for wear
Printed manual
Digital manual
Wiring diagrams Enable tracing of electrical faults
Printed manual
Digital manual
All colour Photos and wiring diagrams which can be enlarged
Printed manual
Digital manual
Easy search Find the task you are looking for quickly
Printed manual
Digital manual
Print-at-home Take the sections you need to the workshop
Printed manual
Digital manual

Printed manual

The original and the best, delivered to your door

Online manual

All the content of a printed manual, plus much more
What's covered
What's covered:
T595/955i Daytona 955cc 97 - 05
T509 Speed Triple 885cc 97 - 98
955i Speed Triple 955cc 99 - 04
Sprint ST 955cc 99 - 04
Sprint RS 955cc 00 - 03
Tiger 885cc 99 - 00
Tiger 955cc 01 - 05
Daytona 955i 955cc 99 - 05
Daytona T595 955cc 97 - 98
Speed Triple 955i 955cc 99 - 04
Speed Triple T509 885cc 97 - 98
Sprint RS 955 955cc 00 - 03
Sprint ST 955 955cc 99 - 04
Tiger 885i 885cc 99 - 00
Tiger 955 955cc 01 - 05
Table of contents
Contents
Introduction
Pre-ride checks
Chapter 1 : Routine maintenance and servicing
Chapter 2A : Engine, clutch and transmission '97-'01 models
Chapter 2B : Engine, clutch and transmission '02-on models
Chapter 3 : Cooling system
Chapter 4 : Engine management system (fuel and ignition)
Chapter 5 : Frame, suspension and final drive
Chapter 6 : Brakes, wheels and tyres
Chapter 7 : Bodywork
Chapter 8 : Electrical systems
Wiring diagrams
Reference
Print manual
More details
Online manual
More details
About
The fuel-injected Triumph Daytona T595 was a major milestone for the company. It represented the first time Triumph would venture to confront their opposition on the cutting edge of technology. The old long stroke of 65 mm was retained but everything else about the engine and bike was new; it was a radical departure from the modular concept that had dominated production until now. You could see how the new motor was a lightened version of the old triple, but fuel injection was new and the frame was a radical departure from previous practice. Serpentine tubing ran from steering head to swingarm pivot and it was aluminium. Bodywork looked tasty too. The new bike was also given the Speed Triple treatment and adorned with bug-eyed twin headlights in the fashionable 'streetfighter' style. You liked it or loathed it, but you couldn't ignore it. At Haynes, we have an extensive range of Triumph repair manuals and online maintenance procedures available for professional mechanics and DIY car enthusiasts. Our Triumph Daytona Speed Triple repair manual is here to help you through every stage of servicing or fixing your motorcycle.