Vauxhall Corsa (2000 - 2003)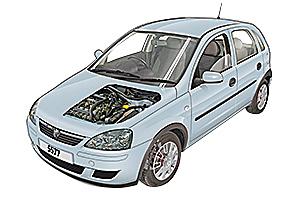 Complete coverage for your vehicle
Written from hands-on experience gained from the complete strip-down and rebuild of a Vauxhall Corsa, Haynes can help you understand, care for and repair your Vauxhall Corsa. We do it ourselves to help you do-it-yourself, and whatever your mechanical ability, the practical step-by-step explanations, linked to over 900 photos, will help you get the job done right. Regular servicing and maintenance of your Vauxhall Corsa can help maintain its resale value, save you money, and make it safer to drive.
We have
18
videos for this car!
What's covered
What's covered:
Corsa Hatchback, Corsavan & Combo Van, including special/limited editions
Petrol:
1.0 litre (973cc) 3-cyl
1.2 litre (1199cc)
1.4 litre (1389cc) 4-cyl
Diesel:
Turbo-diesel 1.7 litre (1686cc)
PLEASE NOTE that this manual has been superceded by manual 5577.
Exclusions:
Does NOT cover 1.8 litre (1796cc) petrol models or 'facelifted' range introduced October 2003
Videos included with this online manual
Pollen filter replacement
Front brake pads replacement
Headlight bulbs replacement
Engine oil and filter change
Rear light cluster bulbs replacement
Coolant replacement
Fluid level checks
Air filter change
Vacuum oil extraction
Battery removal & replacement
Wiper blade replacement
Fuel filter replacement
Checking tyre pressures
Brakes, suspension & tyres
Rear shock absorber replacement
Spark plug replacement
Roadside wheel change
Jacking - vehicle support
Table of contents
Contents
Safety First!
Roadside repairs
Weekly checks
Chapter 1A : Routine maintenance and servicing – petrol models
Chapter 1B : Routine maintenance and servicing – diesel models
Chapter 2A : 1.0 and 1.2 litre petrol engine in-car repair procedures
Chapter 2B : 1.4 litre petrol engine in-car repair procedures
Chapter 2C : Diesel engine in-car repair procedures
Chapter 2D : Engine removal and overhaul procedures
Chapter 3 : Cooling, heating and ventilation systems
Chapter 4A : Fuel and exhaust systems – 1.0 and 1.2 litre petrol engines
Chapter 4B : Fuel and exhaust systems – 1.4 litre petrol engines
Chapter 4C : Fuel and exhaust systems – diesel engine
Chapter 4D : Emission control systems
Chapter 5A : Starting and charging systems
Chapter 5B : Ignition system – petrol engines
Chapter 5C : Pre/post-heating system
Chapter 6 : Clutch
Chapter 7A : Manual transmission
Chapter 7B : Automatic transmission
Chapter 7C : Easytronic transmission
Chapter 8 : Driveshafts
Chapter 9 : Braking system
Chapter 10 : Suspension and steering
Chapter 11 : Bodywork and fittings
Chapter 12 : Body electrical systems
Wiring diagrams
Reference
Online manual
More details