Vauxhall Insignia (2008 - 2012)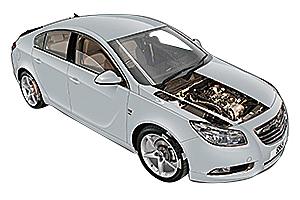 Complete coverage for your vehicle
Written from hands-on experience gained from the complete strip-down and rebuild of a Vauxhall Insignia, Haynes can help you understand, care for and repair your Vauxhall Insignia. We do it ourselves to help you do-it-yourself, and whatever your mechanical ability, the practical step-by-step explanations, linked to over 900 photos, will help you get the job done right. Regular servicing and maintenance of your Vauxhall Insignia can help maintain its resale value, save you money, and make it safer to drive.
We have
10
videos for this car!
Online manual & videos
1 year subscription
The Online Manual is not a printed product and not a download.
Access this manual immediately on your internet browser on your mobile, desktop or tablet.
Choose the Haynes manual that is right for you with our complete comparison guide
Printed manualThe original and best, delivered to your door
Online manualA feature-loaded digital edition of the original manual
MaintenanceSimple weekly checks and servicing guides to keep you on the road
Printed manual
Digital manual
Servicing Complete, fully illustrated step-by-step guides
Printed manual
Digital manual
Easy search Find the task you are looking for quickly
Printed manual
Digital manual
Print-at-home Take the sections you need to the workshop
Printed manual
Digital manual
Wiring Easy-to-read electrical diagrams
Printed manual
Digital manual
Colour photosWhich can be enlarged
Printed manual
Digital manual
Watch and learn Video tutorials for many common tasks
Printed manual
Digital manual

Printed manual

The original and the best, delivered to your door

Online manual

All the content of a printed manual, plus much more
Videos included with this online manual
Checking oil level
Checking steering fluid
Roadside wheel change
Vacuum oil extraction
Oil filter change
Brakes, suspension & tyres
Checking coolant level
Checking brake fluid
Checking tyre pressures
Jacking - vehicle support
What's covered
What's covered:
Petrol:
Vauxhall Insignia Hatchback 1.8L (1796cc) (2008 - 2012)
Vauxhall Insignia Saloon 1.8L (1796cc) (2008 - 2012)
Vauxhall Insignia Estate 1.8L (1796cc) (2008 - 2012)
Diesel:
Vauxhall Insignia Hatchback 2.0L (1956cc) (2008 - 2012)
Vauxhall Insignia Saloon 2.0L (1956cc) (2008 - 2012)
Vauxhall Insignia Estate 2.0L (1956cc) (2008 - 2012)
Exclusions:
Does not cover 1.4, 1.6 or 2.8 litre petrol engines.
Table of contents
Contents
Safety First!, Roadside repairs, Weekly checks
Chapter 1A : Routine maintenance and servicing – petrol models
Chapter 1B : Routine maintenance and servicing – diesel models
Chapter 2A : Petrol engine in-car repair procedures
Chapter 2B : Diesel engine in-car repair procedures
Chapter 2C : Engine removal and overhaul procedures
Chapter 3 : Cooling, heating and air conditioning systems
Chapter 4A : Fuel and exhaust systems – petrol engines
Chapter 4B : Fuel and exhaust systems – diesel engines
Chapter 5A : Starting and charging systems
Chapter 5B : Ignition system – petrol engines
Chapter 6 : Clutch
Chapter 7A : Manual transmission
Chapter 7B : Automatic transmission
Chapter 8 : Driveshafts
Chapter 9 : Braking system
Chapter 10 : Suspension and steering
Chapter 11 : Bodywork and fittings
Chapter 12 : Body electrical systems, Wiring diagrams, Reference
Print manual
More details
Online manual
More details
With a Haynes Online Manual in an online format you get all the trusted content of a printed manual, with additional features to help you get the job done. Take your entire manual with you on every journey.
Key features:
All colour step-by-step guides for over 200 jobs with 700+ photos
Image zoom feature for close-up view of jobs
Brand-new "how to" video tutorials covering key repair tasks
Print complete sections to take with you into the workshop
Troubleshooting section – quickly find the cause of a problem
Colour wiring diagrams help track problems quickly and easily
Easy search feature – find your job fast
Dictionary of automotive terms
Quick links to popular DIY tasks and other jobs linked to your task
Conversion calculator – imperial and metric units
About
The Vauxhall Insignia was introduced in the autumn of 2008, and was available as a 4-door saloon, 5-door hatchback and 5-door estate. An extensive range of petrol and diesel engines are available in the Insignia range. , all of which drive the front wheels through a six-speed manual transmission with a hydraulically operated clutch. Diesel engines are also available with a 6-speed, electronically controlled automatic transmission. Hydraulic power-assisted steering is standard on all models. Air-conditioning is available, and all models have an ergonomically-designed passenger cabin with high levels of safety and comfort for all passengers. Provided that regular servicing is carried out in accordance with the manufacturer's recommendations, the Insignia should prove reliable and economical. The engine compartment is well-designed, and most of the items needing frequent attention are easily accessible. At Haynes, we have an extensive range of Vauxhall repair manuals and online maintenance procedures available for professional mechanics and DIY car enthusiasts. Our Vauxhall Insignia repair manual is the ideal partner when you're servicing or repairing your car.