Vauxhall Vivaro (2001 - 2011)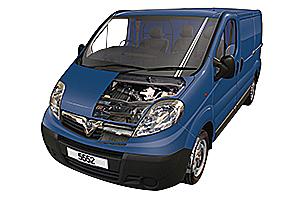 Complete coverage for your vehicle
Written from hands-on experience gained from the complete strip-down and rebuild of a Vauxhall Vivaro, Haynes can help you understand, care for and repair your Vauxhall Vivaro. We do it ourselves to help you do-it-yourself, and whatever your mechanical ability, the practical step-by-step explanations, linked to over 900 photos, will help you get the job done right. Regular servicing and maintenance of your Vauxhall Vivaro can help maintain its resale value, save you money, and make it safer to drive.
Choose the Haynes manual that is right for you with our complete comparison guide
Printed manualThe original and best, delivered to your door
Online manualA feature-loaded digital edition of the original manual
MaintenanceSimple weekly checks and servicing guides to keep you on the road
Printed manual
Digital manual
Servicing Complete, fully illustrated step-by-step guides
Printed manual
Digital manual
Easy search Find the task you are looking for quickly
Printed manual
Digital manual
Print-at-home Take the sections you need to the workshop
Printed manual
Digital manual
Wiring Easy-to-read electrical diagrams
Printed manual
Digital manual
Colour photosWhich can be enlarged
Printed manual
Digital manual
Watch and learn Video tutorials for many common tasks
Printed manual
Digital manual

Printed manual

The original and the best, delivered to your door

Online manual

All the content of a printed manual, plus much more
What's covered
What's covered:
Vivaro panel vans with 1.9 litre and 2.0 litre diesel engines.
Diesel: 1.9 litre (1870cc) and 2.0 litre (1995cc).
Exclusions:
Does NOT cover 'Tecshift' auto-shift transmission or features specific to specialist bodywork/conversions. Does not cover petrol engines or 2.5 litre diesel engine.
Table of contents
Contents
General Information
Chapter 1: Routine maintenance and servicing
Chapter 2: Part A: 1.9 litre engine in-car repair procedures
Chapter 2: Part B: 2.0 litre engine in-car repair procedures
Chapter 2: Part C: Engine removal and engine overhaul procedures
Chapter 3: Cooling, heating and air conditioning systems
Chapter 4: Part A: Fuel and exhaust systems
Chapter 4: Part B: Emission control systems
Chapter 5: Starting and charging systems
Chapter 6: Clutch
Chapter 7: Manual transmission
Chapter 8: Driveshafts
Chapter 9: Braking system
Chapter 10: Suspension and steering systems
Chapter 11: Bodywork and fittings
Chapter 12: Body electrical systems, Wiring diagrams, Reference
Print manual
More details
Online manual
More details