Buy manuals for Passat (2005 - 2010)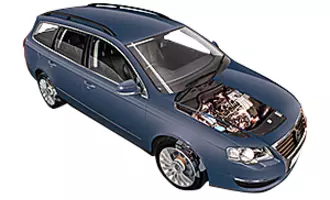 Volkswagen
Passat (2005 - 2010)
The Volkswagen Passat Mk6 was introduced in May 2005 as both a 4-door saloon and 5-door estate. Turbodiesels included 1.9- or 2.0-litre units. A five- or six-speed manual gearbox was fitted as standard to all models, with a six-speed DSG (Direct Shift Gearbox) automatic transmission available as an option on most 2.0-litre models. A wide range of standard and optional equipment was available within the model range to suit most tastes, including an anti-lock braking system and air-conditioning. Our repair manual for the VW Passat is here to help you through every stage of servicing or fixing your car.


Compare versions of this manual
Choose the Haynes manual that is right for you
New!
OnDemand

video content now available for your vehicle
Step-by-step maintenance and repairs guides for your vehicle in three formats.

Haynes OnDemand

Step-by-step video tasks & original manual content
Printed manualThe original and best, delivered to your door
Online manualA feature-loaded digital edition of the original manual
Maintenance Simple weekly checks and servicing guides to keep you on the road
Free
Printed manual
Digital manual
One-job Exclusive video and original manual content on popular repairs
£2.99
Printed manual
Digital manual
Video collection All our videos and original manual content on 15+ popular tasks
£9.99
Printed manual
Digital manual
Servicing Complete, fully illustrated step-by-step guides
40+ jobs
200+ jobs
200+ jobs
Fault codes Pinpoint specific problems easily
Haynes OnDemand
Printed manual
Digital manual
Easy search Find the task you are looking for quickly
Haynes OnDemand
Printed manual
Digital manual
Print-at-home Take the sections you need to the workshop
Haynes OnDemand
Printed manual
Digital manual
Wiring Easy-to-read electrical diagrams
Haynes OnDemand
Printed manual
Digital manual
All-colour Which can be enlarged in one-click
Haynes OnDemand
Printed manual
Digital manual

HaynesOnDemand

Step-by-step video tasks & original manual content

Free & paid for videos


Printed manual

The original and the best, delivered to your door

Online manual

All the content of a printed manual, plus much more
There are 30 OnDemand procedures available for your vehicle! Explore now >>>