Ford F-350 Super Duty (2011 - 2016)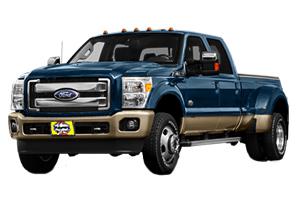 Complete coverage for your vehicle
Written from hands-on experience gained from the complete strip-down and rebuild of a Ford F-350 Super Duty, Haynes can help you understand, care for and repair your Ford F-350 Super Duty. We do it ourselves to help you do-it-yourself, and whatever your mechanical ability, the practical step-by-step explanations, linked to over 900 photos, will help you get the job done right. Regular servicing and maintenance of your Ford F-350 Super Duty can help maintain its resale value, save you money, and make it safer to drive.
What's covered
What's covered:
Ford Super-Duty Pick-ups
Petrol and diesel:
Ford Super-Duty F-250 2011-16
Ford Super-Duty F-350 2011-16
Exclusions:
Does not include F-450 or F-550 models.
Table of contents
Introduction
Chapter 1: Tune-up and routine maintenance
Chapter 2: Part A: Gasoline engine
Chapter 2: Part B: Diesel engine
Chapter 2: Part C: General engine overhaul procedures
Chapter 3: Cooling, heating and air conditioning systems
Chapter 4: Part A: Fuel and exhaust systems - gasoline engines
Chapter 4: Part B: Fuel and exhaust systems - diesel engines
Chapter 5: Engine electrical systems
Chapter 6: Part A: Emissions control systems - gasoline engines
Chapter 6: Part B: Emissions control systems - diesel engines
Chapter 7: Part A: Automatic transmission
Chapter 7: Part B: Transfer case
Chapter 8: Driveline
Chapter 9: Brakes
Chapter 10: Suspension and steering systems
Chapter 11: Body
Chapter 12: Chassis electrical system
Wiring Diagrams
Print manual
More details