Honda Motorcycle XL175 (1973 - 1978)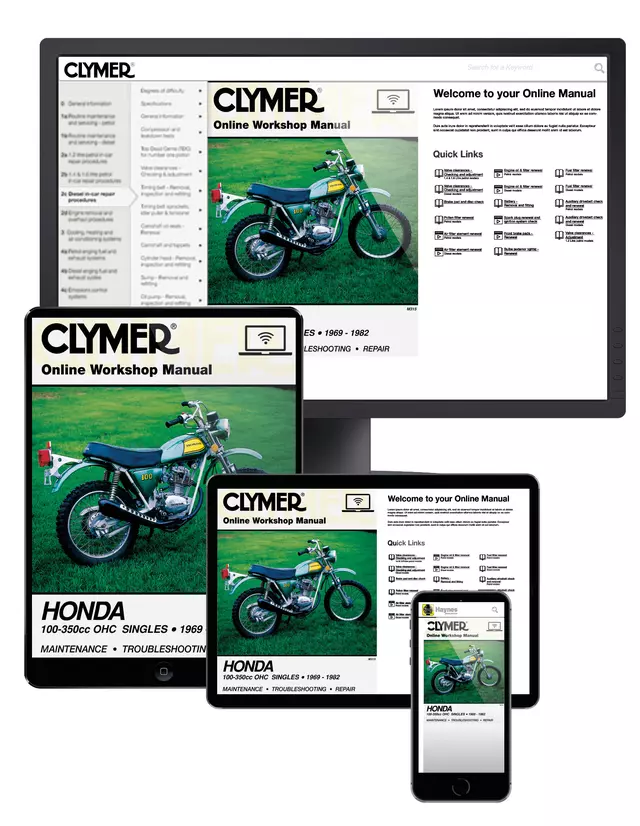 Complete coverage for your vehicle
Written from hands-on experience gained from the complete strip-down and rebuild of a Honda Motorcycle XL175, Haynes can help you understand, care for and repair your Honda Motorcycle XL175. We do it ourselves to help you do-it-yourself, and whatever your mechanical ability, the practical step-by-step explanations, linked to over 900 photos, will help you get the job done right. Regular servicing and maintenance of your Honda Motorcycle XL175 can help maintain its resale value, save you money, and make it safer to ride.
What's covered
What's covered:
Honda CB100 (1970-1972)
Honda CB125S (1973-1982)
Honda CL100 (1970-1972)
Honda CL100S (1971-1973)
Honda CT125 (1977)
Honda SL100 (1969-1973)
Honda SL125 (1971-1973)
Honda TL125 (1973-1975)
Honda TL125S (1976)
Honda TL250 (1975-1976)
Honda XL100 (1974-1978)
Honda XL125 (1974-1978)
Honda XL175 (1973-1978)
Honda XL250 (1972-1976)
Honda XL350 (1974-1978)
Table of contents
This Honda Vintage Motorcycle Manual is 368 pages.
QUICK REFERENCE DATA
CHAPTER ONE / GENERAL INFORMATION
Manual organization / Service hints / Torque specifications / Safety first / Special tips / Parts replacement / Expendable supplies / Serial numbers / Tune-up and troubleshooting tools
CHAPTER TWO / TROUBLESHOOTING
Operating requirements / Troubleshooting instruments / Emergency troubleshooting / Engine starting / Engine performance / Excessive vibration / Front suspension and steering / Brake problems
CHAPTER THREE / LUBRICATION, MAINTENANCE AND TUNE-UP
Routine checks / Service intervals / Tires and wheels / Crankcase breather hose / Battery / Periodic lubrication / Engine oil change / Oil filter screen cleaning / Front fork oil change / Periodic maintenance / Drive chain adjustment/ Front brake lever adjustment / Rear brake pedal adjustment / Clutch adjustment / Air filter service / Fuel shutoff valve and filter service / Engine tune-up / Camshaft chain tensioner adjustment / Valve clearance adjustment / Spark plugs / Contact breaker point adjustment / Static ignition timing adjustment / Dynamic ignition timing adjustment / Idle speed adjustment / Specifications
CHAPTER FOUR / 100 AND 125 CC ENGINES
Engine principles / Engine cooling / Servicing engine in frame / Engine removal/installation / Camshaft / Cylinder head / Cylinder head cover and camshaft / Camshaft chain / Valves and valve components / Cylinder / Piston, piston pin and piston rings / Oil pump / Crankcase and crankshaft / Camshaft chain and tensioner / Kickstarter / Break-in procedure / Specifications
CHAPTER FIVE / 175, 250 AND 350 CC ENGINES
Engine principles / Engine cooling / Servicing in frame / Engine removal/installation / Cylinder head cover and camshaft / Camshaft chain / Cylinder head / Valves and valve components / Cylinder / Piston, piston pin and piston rings / Oil pump / Crankcase and crankshaft / Camshaft chain and tensioner / Kickstarter / Break-in procedure / Specifications
CHAPTER SIX / CLUTCH AND TRANSMISSION
Clutch operation / Clutch / Clutch inspection / Clutch cable / External shift mechanism / Drive sprocket / Transmission and internal shift mechanism / 5-speed transmission and internal shift mechanism / Specifications
CHAPTER SEVEN / FUEL AND EXHAUST SYSTEMS
Air cleaner / Carburetor operation / Carburetor service / Carburetor adjustments / Throttle cable / Fuel tank / Fuel filter / Crankcase breather system / Exhaust system / Specifications
CHAPTER EIGHT / ELECTRICAL SYSTEM
Charging system / Rectifier / Voltage regulator/rectifier / Alternator / Breaker point ignition / Capacitor discharge ignition / Ignition coil / Ignition pulse generator / Ignition advance mechanism / Lighting system / Switches / Specifications
CHAPTER NINE / FRONT SUSPENSION AND STEERING
Front wheel / Front hub / Wheels / Tire changing / Tire repairs / Handlebar / Steering head / Front fork / Specifications
CHAPTER TEN / REAR SUSPENSION
Rear wheel / Rear hub and driven sprocket / Drive chain / Drive chain case / Swing arm / Specifications
CHAPTER ELEVEN / BRAKES
Drum brakes / Front brake cable / Front disc brake / Brake pad replacement / Brake caliper body / Specifications
INDEX
COLOR WIRING DIAGRAMS
Models covered:
1970 1971 1972 HONDA CB100
1973 1974 1975 1976 1977 1978 1979 1980 1981 1982 HONDA CB125S
1970 1971 1972 HONDA CL100
1971 1972 1973 CL100S
1977 HONDA CT125
1969 1970 1971 1972 1973 HONDA SL100
1971 1972 1973 HONDA SL125
1973 1974 1975 HONDA TL125
1976 TL125S
1975 1976 HONDA TL250
1974 1975 1976 1977 1978 HONDA XL100
1974 1975 1976 1977 1978 HONDA XL125 1973 1947 1975 1976 1977 1978 HONDA XL175
1972 1973 1974 1975 1976 HONDA XL250
1974 1975 1976 1977 1978 HONDA XL350
Clymer Manuals Honda CB100 Manual
Clymer Manuals Honda CB125S Manual
Clymer Manuals Honda CL100 Manual
Clymer Manuals Honda CL100S Manual
Clymer Manuals Honda CT125 Manual
Clymer Manuals Honda SL100 Manual
Clymer Manuals Honda SL125 Manual
Clymer Manuals Honda TL125 Manual
Clymer Manuals Honda TL125S Manual
Clymer Manuals Honda TL250 Manual
Clymer Manuals Honda XL100 Manual
Clymer Manuals Honda XL125 Manual
Clymer Manuals Honda XL175 Manual
Clymer Manuals Honda XL250 Manual
Clymer Manuals Honda XL350 Manual
Clymer Manuals Honda Motorcycle Manual
Clymer Manuals Honda Manual
Honda Motorcycle Manual
Honda Manual
Motorcycle Manual
Clymer Motorcycle Manual
CB100 (1970-1972)
CB125S (1973-1982)
CL100 (1970-1972)
CL100S (1971-1973)
CT125 (1977)
SL100 (1969-1973)
SL125 (1971-1973)
TL125 (1973-1975)
TL125S (1976)
TL250 (1975-1976)
XL100 (1974-1978)
XL125 (1974-1978)
XL175 (1973-1978)
XL250 (1972-1976)
XL350 (1974-1978)
Online manual
More details