KTM 520 EXC (2000 - 2007)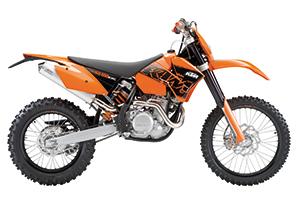 Complete coverage for your vehicle
Written from hands-on experience gained from the complete strip-down and rebuild of a KTM 520 EXC, Haynes can help you understand, care for and repair your KTM 520 EXC. We do it ourselves to help you do-it-yourself, and whatever your mechanical ability, the practical step-by-step explanations, linked to over 900 photos, will help you get the job done right. Regular servicing and maintenance of your KTM 520 EXC can help maintain its resale value, save you money, and make it safer to ride.
What's covered
What's covered:
250EXC sohc 4-stroke 250cc 02 - 06
400EXC sohc 4-stroke 398cc 00 - 07
450EXC sohc 4-stroke 449cc 03 - 07
520EXC sohc 4-stroke 510cc 00 - 02
525EXC sohc 4-stroke 510cc 03 - 07
400SX sohc 4-stroke 398cc 00 - 02
450SX sohc 4-stroke 449cc 03 - 06
520SX sohc 4-stroke 510cc 00 - 02
525SX sohc 4-stroke 510cc 03 - 06
Includes Supermoto SMR/SMC versions and MXC/XC Enduros
Print manual
More details
About
The aim of this manual is to help you get the best value from your motorcycle. It can do so in several ways. It can help you decide what work must be done, even if you choose to have it done by a dealer; it provides information and procedures for routine maintenance and servicing; and it offers diagnostic and repair procedures to follow when trouble occurs. We hope you use the manual to tackle the work yourself. For many simpler jobs, doing it yourself may be quicker than arranging an appointment to get the motorcycle into a dealer and making the trips to leave it and pick it up. More importantly, a lot of money can be saved by avoiding the expense the shop must pass on to you to cover its labour and overhead costs. At Haynes, we have an extensive range of Suzuki repair manuals and online maintenance procedures available for professional mechanics and DIY car enthusiasts. Our Suzuki GSX-R6 repair manual makes the ideal companion when you're undertaking maintenance or repairs on your motorcycle.