Buy manuals for MX-5 (1989 - 2005)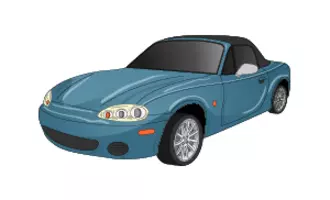 Mazda
MX-5 (1989 - 2005)
The Mk1 Mazda MX-5 was introduced in 1989 and had a 1.6-litre petrol engine. It had a classic front-engine, rear-wheel-drive, 2-door convertible layout was a hit, mainly because it was such fun to drive. In 1994 a 1.8-litre engine was added to the range, while a reduced output 1.6-litre model was also introduced. The Mk 2 model was launched in 1998, with the iconic pop-up headlamps absent. In 2000, the facelifted 'Mk 2.5' model was released, with subtle changes to the body and interior and an uprated 1.8-litre engine. A wide range of standard and optional equipment is available within the Mazda MX-5 range, including central locking, electric windows, air conditioning, and airbags.

Compare versions of this manual
Choose the Haynes manual that is right for you
New!
OnDemand

video content now available for your vehicle
Step-by-step maintenance and repairs guides for your vehicle in three formats.

Haynes OnDemand

Step-by-step video tasks & original manual content
Printed manualThe original and best, delivered to your door
Online manualA feature-loaded digital edition of the original manual
Maintenance Simple weekly checks and servicing guides to keep you on the road
Free
Printed manual
Digital manual
One-job Exclusive video and original manual content on popular repairs
£1.99
Printed manual
Digital manual
Video collection All our videos and original manual content on 15+ popular tasks
£5.99
Printed manual
Digital manual
Servicing Complete, fully illustrated step-by-step guides
40+ jobs
200+ jobs
200+ jobs
Fault codes Pinpoint specific problems easily
Haynes OnDemand
Printed manual
Digital manual
Easy search Find the task you are looking for quickly
Haynes OnDemand
Printed manual
Digital manual
Print-at-home Take the sections you need to the workshop
Haynes OnDemand
Printed manual
Digital manual
Wiring Easy-to-read electrical diagrams
Haynes OnDemand
Printed manual
Digital manual
All-colour Which can be enlarged in one-click
Haynes OnDemand
Printed manual
Digital manual

HaynesOnDemand

Step-by-step video tasks & original manual content

Free & paid for videos


Printed manual

The original and the best, delivered to your door

Online manual

All the content of a printed manual, plus much more
There are 31 OnDemand procedures available for your vehicle! Explore now >>>