Honda Motorcycle CB550F (1975 - 1977)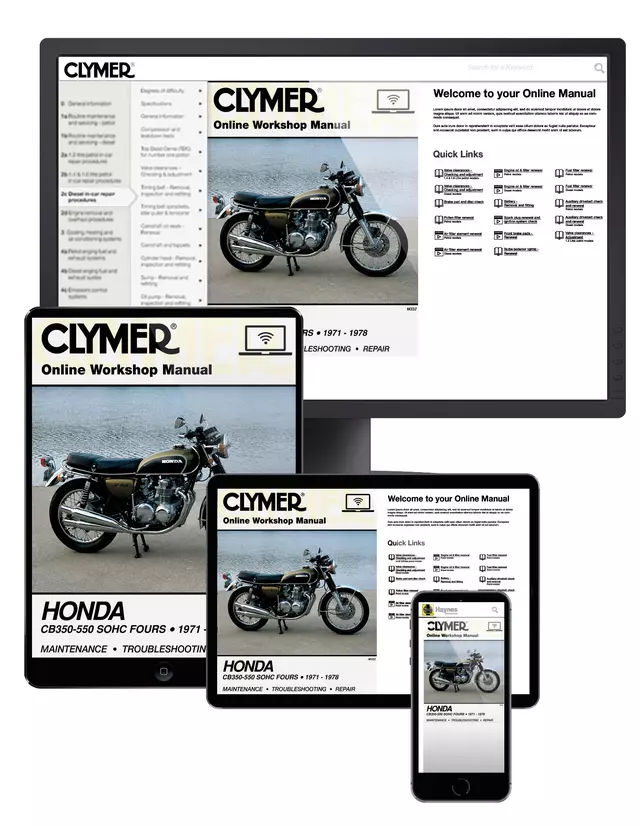 Complete coverage for your vehicle
Written from hands-on experience gained from the complete strip-down and rebuild of a Honda Motorcycle CB550F, Haynes can help you understand, care for and repair your Honda Motorcycle CB550F. We do it ourselves to help you do-it-yourself, and whatever your mechanical ability, the practical step-by-step explanations, linked to over 900 photos, will help you get the job done right. Regular servicing and maintenance of your Honda Motorcycle CB550F can help maintain its resale value, save you money, and make it safer to ride.
Online manual
1 year subscription
The Online Manual is not a printed product, not a PDF and not a download.
Access this manual immediately on your internet browser on your mobile, desktop or tablet.
What's covered
What's covered:
Honda CB550F, 1975-1977
Honda CB550, 1974-1978
Honda CB500, 1971-1773
Honda CB400F, 1975-1977
Honda CB350F, 1972-1974
Table of contents
This Honda vintage motorcycle manual is 200 pages.
QUICK REFERENCE DATA
CHAPTER ONE / GENERAL INFORMATION
Manual organization / Service hints / Parts replacement / Safety hints / Tools ?Expendable supplies / Serial numbers / General specifications.
CHAPTER TWO / PERIODIC MAINTENANCE AND TUNE-UP
Tools / Daily checks / Weekly checks / Preventive maintenance schedule / Chassis checks and adjustment / Oil and filter / Periodic lubrication / Engine tune-up / Compression test / Valve adjustment / Cam chain / Spark plugs / Condenser (capacitor) / Breaker points / Ignition timing / Air cleaner service / Carburetor adjustment / Emission control devices / Clutch / Battery check / Drive chain service / Winter storage
CHAPTER THREE / TROUBLESHOOTING Operating requirements / Troubleshooting instruments / Starting difficulties / Starter / Poor idling / Misfiring / Flat spots / Power loss / Overheating / Engine noises / Piston seizure / Excessive vibration / Clutch slip or drag / Transmission / Poor handling / Brake problems / Electrical problems / Troubleshooting guide
CHAPTER FOUR / ENGINE
Servicing engine in frame / Exhaust system / Tachometer drive cable / Engine removal / Cylinder head / Valve train / Cylinder barrels / Pistons and rings / Camshaft / Oil pump and filter / Crankcase / Crankshaft and connecting rods
CHAPTER FIVE / CLUTCH AND TRANSMISSION
Clutch / Transmission / Gearshift mechanism
CHAPTER SIX / FUEL SYSTEM
Carburetors / Fuel tank / Air cleaner / Manometer / Emissions control
CHAPTER SEVEN / ELECTRICAL SYSTEM
Starter / Starter solenoid / Ignition coil / Breaker points / Spark advancer / Alternator / Voltage regulator / Silicon rectifier / Battery / Switches / Wiring diagrams
CHAPTER EIGHT / FRONT WHEEL AND BRAKE
Front wheel / Brakes / Tire changing and repair
CHAPTER NINE / REAR WHEEL AND BRAKE
Rear wheel / Brake / Tires / Wheel alignment
CHAPTER TEN / STEERING, SUSPENSION, AND FRAME
Steering / Front suspension / Rear suspension / Stripping the frame
APPENDIX / GENERAL SPECIFICATIONS
INDEX
CB350
CB400
CB500
CB550
Super sport
500 four
550 four
Clymer Manuals Honda CB350F Manual
Clymer Manuals Honda CB400F Manual
Clymer Manuals Honda CB500 Manual
Clymer Manuals Honda CB550 Manual
Clymer Manuals Honda CB550F Manual
Online manual
More details
With a Haynes Online Manual in an online format you get all the trusted content of a printed manual, with additional features to help you get the job done. Take your entire manual with you on every journey.
Key features:
All colour step-by-step guides for over 200 jobs with 700+ photos
Image zoom feature for close-up view of jobs
Brand-new "how to" video tutorials covering key repair tasks
Print complete sections to take with you into the workshop
Troubleshooting section – quickly find the cause of a problem
Colour wiring diagrams help track problems quickly and easily
Easy search feature – find your job fast
Dictionary of automotive terms
Quick links to popular DIY tasks and other jobs linked to your task
Conversion calculator – imperial and metric units