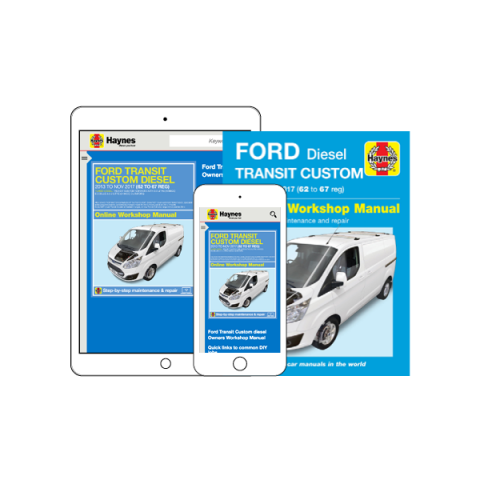 Haynes has released a new Owners Workshop Manual which takes an in-depth look at the Ford Diesel Transit Custom ('13 to '17) 62 to 67 reg plates. The new manual covers the Diesel 2.0 litre (1996cc) EcoBlue and 2.2 litre (2198cc) Duratorq models of the Ford Transit Custom.
The Ford Diesel Transit ('13-'17) 62 to 67 reg Owner's Workshop Manual is available in both print and online manual formats. The online manual adds full colour images, how-to videos, and the ability to access the service and repair information on your PC, laptop, tablet or smartphone.
Like all of our manuals, the Ford Transit Custom 2013 to 2017 manual is written from hands-on experience gained by stripping down and rebuilding the vehicle in the Haynes Project Workshop. The practical step-by-step instructions and clear photos are easy to follow and provide information on maintenance, servicing, fault finding, the MoT and Haynes tips to make many tasks easier.
Haynes Online Manuals include all the content from a printed manual with the additional benefits of full colour images, videos, a glossary of terms, searchable menus and quick links. A Haynes Online Manual costs just £16.99 per manual for a one-year access.
Ford Diesel Transit ('13-'17) 62 to 67 reg Owner's Workshop Manual does not cover automatic transmission, specialist bodywork/conversions, or technical changes made for 2018 model year (Dec 2017 onward). Additionally, the manual does not cover Transit Courier or Connect ranges, or new Transit (full size) range introduced for 2014.