The Ford Mustang Mark II was a 'pony' car, a compact and affordable model with a highly stylised and sporty image. It's seen now as being somewhat cramped, slow and underpowered, but at the time it must have seemed a very sensible response to the economic conditions in the US.
Many felt that its predecessor had grown too large for its role, and the 1973 oil crisis was just around the corner, so to Ford it made perfect sense to design the Mustang II around its small and sensible Ford Pinto sub-compact.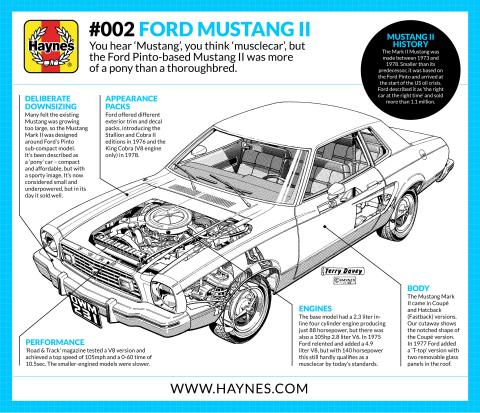 The public agreed, because during the production life of the Mustang II, from 1973 to 1978, Ford sold more than 1.1 million. As Ford said, it was clearly 'the right car, at the right time'. Indeed, it was awarded Car of the Year by Motor Trend magazine in 1974.
The design was influenced by the Italian Ghia design studio, recently acquired by Ford. Two body shapes were made, a 'notchback', or Coupé version, and a Fastback (hatchback) model. During the life of the car, Ford offered special edition 'appearance packs' with custom exterior trim and decals. These included 'Stallion' and 'Cobra II' editions in 1976 and a 'King Cobra' model in 1978. There was also a 'T-top' version of the Fastback model, with two removable glass roof panels.
Today, the Mustang II is generally considered somewhat cramped and slow, with poor handling. The complaints about performance are easy enough to justify, since there were only two engine variants when the car was launched – a 2.3 liter in-line four-cylinder power plant producing just 88 horsepower, and a 2.8 liter V6 producing 105hp. Both are lukewarm even by today's regular family saloon car standards, and the Mustang II was a pretty heavy car.
In 1975 the oil crisis was over, and Ford relented, adding a 4.9 liter V8 option. This produced 140hp, still modest by today's standards, and when Road and Track magazine tested the car they achieved a top speed of 105mph and a 0-60 time of 10.5 seconds.
However, when it was launched, the Mustang II was designed to compete with compact foreign imports like the Toyota Celica and Datsun 240Z. Today's Mustang might be a fire-breathing V8 monster, but in 1973 the Mustang was an everyday 'sports' model aimed at a thriftier, less ambitious audience.