Haynes' World is a new regular feature that takes a look at what the people at Haynes are doing with their cars, bikes and other vehicles.
Owner: Craig Stewart
Position: Haynes content marketing manager & author of Car Hacks
Car: 1991 Volkswagen Passat GT
I'd like to introduce you to my car. There's a lot to tell, so it's probably best if the story is split over a few of these Haynes' World updates – if I digress, I apologise in advance for rambling!
I have a thing about estate cars, particularly performance estates, so when I decided to buy a project car that had to be interesting but also something that could easily do the daily commute, there was only one choice. A Volvo 240 GLT.
So I started searching the usual sources of secondhand motors, and found a great-looking example that was a little pricier than book but worth a look. I clicked through to the trader's website to ensure they were legit, and it turned out they were an 80s-90s Volvo specialist – perfect! But amongst the Swedish boxes, there was something that I fell in love with, and it wasn't wearing the famous diagonal bar.
So I visited the seller and a quick poke around and a test drive later and I was driving home in a 1991 Volkswagen Passat GT 16v Estate in glorious Calypso Blue. I'll skip a bit of detail here and save it for future updates, but I have had a BAM 1.8 20v turbo engine from an Audi TT swapped in, and that replacement engine takes us to the focus of this update, subtitled "a cautionary tale for people who undertake engine swaps", or more accurately, "Craig is an idiot".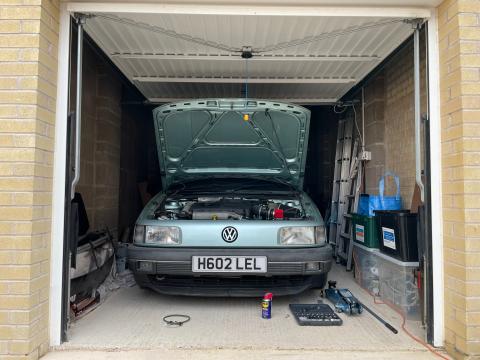 H602LEL ended up being tucked into the garage when I acquired a new car which took on daily duties, but that meant I could concentrate on perfecting it and taking it to shows and the like. However, cars do not like being laid up, even if you follow the best car storage advice, and 2020's lockdowns and restrictions only exacerbated that.
This year, I decided I had to make the choice: sell the Passat or take it seriously – recommission it and take it to events. I went for the latter, and recommissioning first involved replacing a dud starter motor. So, with the Haynes Audi TT online manual loaded onto my phone's browser and the correct starter motor for the swapped Audi BAM engine purchased from Euro Car Parts, I set to work.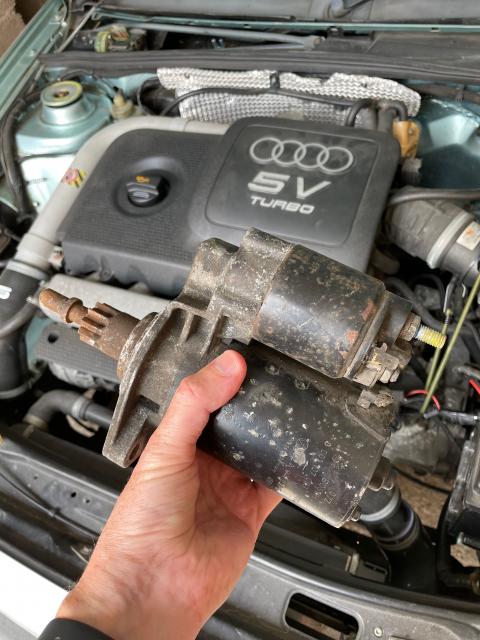 Off came the old starter with a bit of the usual combination of spanner, WD-40 and the good old persuader, and I picked up the new one. Hmm, this doesn't look right. They're totally different. I offered up the new one and while it fitted to the bolt holes, it wasn't right. Then I had a thought – the Passat retained its original gearbox when the engine swap was done, and the starter motor bolts to the bellhousing. Duh: I'd bought the wrong starter motor.
Current status: I'm waiting for Euro Car Parts to exchange it for the correct starter motor (this is their second attempt, after another incorrect motor came in the correct packaging!), and then it'll be a case of giving the car a full service and a thorough check-over. Just working on the Passat has reminded me how much I love the big old beast, and I can't wait to get it out on the road again!
Haynes' World 30-second round-up
Owner: Rob Keenan
Position: Haynes interim digital editor
Car: 2005 Mercedes-Benz SLK AMG55
Modern houses' narrow driveways and garages are not the most practical of things when it comes to getting the bin or a bicycle past the car. Still, I'd managed for several years without incident. That changed a couple of weeks ago, when the bike that was propped against the fence decided it wanted to lean on the Merc instead.
I saw it happening and thought I'd managed to stop the handlebar in time, but no. There's now a 10p-sized dink in the rear wing and it's annoying me like mad. I'm contemplating getting one of those DIY repair kits that comprises a suction cup and some form of 'puller' but the reviews tend to be universally poor to average, with even the skin on rice puddings said to have nothing to fear.
Fingers crossed, I'll find something effective. In the meantime, I'm reversing the car onto the driveway, so the dent isn't the first thing I see every time I go out to put something in the bin. 
Haynes' World 30-second round-up
Owner: Martynn Randall
Position: Haynes technical editor
Bike: 1981 BMW R100RS
A couple of months ago I bought a 1981 BMW R100RS to restore. It was left unused in a garage for over 20 years, so needs a complete rebuild. 
This isn't the first time I've owned an R100RS – I bought one when I was a teenager (a few years ago!) but didn't like it much because all of my mates had faster bikes. But I've always loved the BMW's looks, so when a recent opportunity to get one arose I jumped at it.
Next time I'll go into more detail about my new purchase's condition, and will reveal how much effort is going to be required to get it back on the road.