The UK government is banning the sale of all new petrol and diesel-engined cars and vans from 1 January 2030. The legislation is also set to affect many new hybrid-engined cars at the same time, although plug-in hybrids will continue to be sold new until 2035.
The change in law doesn't quite make the UK a global leader in green motoring (Norway will beat us in this regard by five years), but it's a significant step towards the removal of fossil-fuel-burning vehicles from our roads.
So what's going to happen from 2030?
Car makers will no longer be allowed to sell new cars powered entirely or partially by internal combustion. So if you walk into a dealership in 2030 the only new cars with an engine under the bonnet will be plug-in hybrids.
At the moment there are around 30 pure electric models of car and van available to buy in the UK, with that number expected to have ballooned by the end of the decade. Some car makers have decided to ease the pain of new model development by sharing components – for example, Ford will use Volkswagen's MEB electric car platform to enable it to launch an electric compact SUV in a couple of years.
Currently, petrol and diesel are still the most popular fuel types for cars, with their percentage share of the market in 2020 being 59% & 39% respectively. However, electric and hybrid vehicles now account for the majority of the growth of the UK vehicle population.
Hybrid, full electric and other fuel types now occupy 2% of the market. In 2010 that figure was 0.3%. So while growth may appear relatively small, when looking at actual numbers 'on the road' the growth is noticeable; from under 90,000 vehicles in 2010 to nearly 800,000 vehicles by the end of 2020; EV and hybrid vehicle take-up grew by almost 300,000 vehicles in 2020.

How does the 2030 ban affect me?
You can still buy new petrol and diesel cars and vans right up until the end of the decade. Or you can buy a pure electric car and take advantage of the government's 'plug-in car grant', which applies to fully electric vehicles costing less than £35,000, but it's been reduced to a maximum of £2500. It's been scrapped for hybrids altogether.
The only thing you'll notice in this decade, as a driver of a petrol or diesel-engined car, is where you can drive it. This is especially the case with diesel cars. Bristol, for example, has opened the floodgates by proposing a 100% ban on private diesel vehicles in the city. Other cities are likely to follow.
Over time, the ultimate goal is, of course, to get heavily polluting cars off the road (ignoring the fact that the modern internal combustion engine is having less impact on the environment than ever). You can be sure that MOT emission standards will become more stringent, there will be heavy incentives in the form of 'scrappage schemes' to bin internal combustion in favour of electric, and there are already handsome tax incentives to do the same.
Can I still drive my current car after the 2030 ban?
This has been one of the most misunderstood aspects of the upcoming ban. Yes, you can. The government is trying to bring about a shift to electric, but not at the risk of becoming a dictatorship over all things automotive.
What about classic cars?
It's business as usual – the classic car industry in the UK is worth around six billion pounds, and the government isn't going to want that to go away.
The only downside is that there may one day be a hard line of what is considered a classic. The government will want to avoid people driving a 1998 Mondeo, and calling it a classic to get around the rules. However, the same rules for historic vehicle tax exemption (the vehicle needs to have been built before 8 January 1980) may still be applied.
Can I buy a petrol or diesel car after 2030?
As long as it's a used car, yes, and you'll be able to buy and sell a car privately as well as at dealers. In fact some main dealers may try to get around the petrol and diesel car ban by pre-registering new stock. They currently do that anyway, because it enables them to meet sales targets, but if electric car infrastructure and model availability can't keep up with demand, there may be an explosion in sales of 'nearly new' petrol and diesel vehicles after 2030.
The UK government may opt to introduce further restrictions, such as a ban on the import of new petrol or diesel vehicles, to close that potential loophole.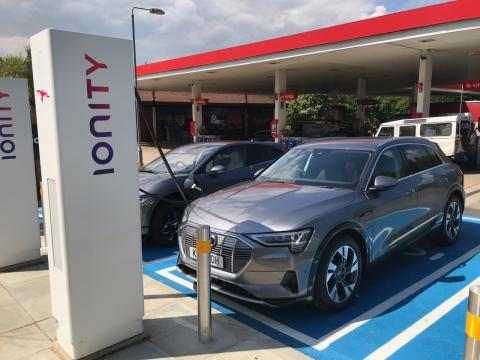 Will fuel stations disappear?
Most of them are unlikely to vanish because they'll be converted from dispensing fossil fuels to electricity, but we're talking many years ahead. In the meantime, more of them will install charging points for the coming boom in EVs, and improving battery technology will reduce charging times. Replenishing your car is unlikely to ever be as quick as filling a fuel tank, but it should be a lot less painful than it is at the moment.
The elephant in the room is the future cost of petrol or diesel. The government may decide to increase the rate of the tax to make more people make the move to electric. Also, as sales of petrol and diesel fall, so will profits for the oil companies, so prices will have to rise to fill that gap. The likes of BP and Shell won't go bust, though, because they're investing huge amounts of money in charging infrastructure.
What will happen to the value of my petrol or diesel car after the ban?
If you intend to keep whatever you're driving now into the next decade, don't worry – unless it's a supercar the depreciation curve of a typical car means it'll have lost much of its value within the first five years. And there's nothing to worry about if you buy a used car in a few years – demand will be strong for a good while after 2030. Used car values may even strengthen if the electric car situation (charging infrastructure and model availability) isn't looking particularly healthy at the turn of the decade. 
We'd be more concerned if you wanted to buy a new petrol or diesel-engined car as 2030 approaches. There's likely to be a new form of road tax (VED) in place by then, to make up for a fall in road tax revenue the government collects as electric cars become more popular. That's because VED is zero-rated for cars with no emissions. So without a crystal ball to gaze into, we won't know how new car values will fare until we're well into the second half of the '20s.