The Ford Corsair was one of the company's more exotic looking cars and was designed as a mid-size model to fit between the smaller Ford Cortina and the larger Zephyr and Zodiac models.
It had a relatively brief production run, from 1963-1970 and was eventually swallowed up by the new, enlarged Ford Cortina Mark III in 1970. Only 300,000 Corsairs were made and it's estimated that little more than 300-350 survive today.
'Corsair' means buccaneer, raider or pirate, and the Corsair's unusual V-shaped snout gives it a very distinctive appearance which still looks striking today. Under the skin, though, the Corsair was more conventional, and not completely successful.
Essentially a stretched Ford Cortina, it didn't offer a whole lot more space, and the introduction of Ford's innovative V4 'Essex' engine wasn't the technological tour de force that it might sound.
This V4 motor, in combination with the shark-like nose, is what makes the Corsair so interesting, but road testers were not especially impressed, complaining of uneven idling and that it was rough and coarse to drive.
The problem is the angle of the cylinder banks. The Corsair's Essex engine has them arranged at an angle of 60 degrees, whereas the smoothest angle for a V configuration is 90 degrees. A balancer shaft was added to try to smooth things out, but with only limited success.
In fact, the Corsair was originally shipped with a conventional 1.5-litre 'Kent' inline four developing 60bhp, and the 1663cc (1.7-litre) V4 wasn't introduced until 1965.
Rough or not, it did at least bring more power (73hp) and performance, and later a 2.0-litre Essex engine brought 92bhp and, in the Ford Corsair 2000E Deluxe, an impressive 103bhp.
Check out our 1000s of video tutorials for individual jobs on your car!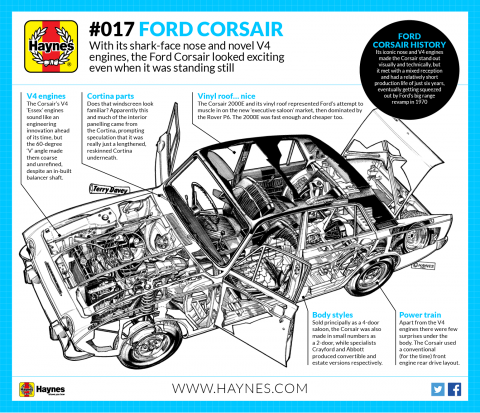 Crayford Engineering, an independent design company working in conjunction with Ford at the time, even produced a 3-litre version using Ford's Essex V6 engine. Crayford also worked on a convertible version of the Corsair that's now much sought-after.
Crayford Engineering wasn't the only specialist brought in for other body designs. An estate version of the Corsair was built by Abbott Ltd in Farnham, Surrey.
It seems odd today that a major car manufacturer should sub-contract different body styles to independent coachbuilders, but it was common practice at the time, and Abbott also made 'Farhnam' Zodiac and Zephyr estates for Ford.
Unfortunately, Abbott closed its doors in 1972, just two years after the Corsair ceased production.
The convertible and estate versions of the Corsair brought the number of body styles up to four. Otherwise, the choice was simply between a 4-door or a 2-door saloon. The 2-door was not popular at the time and made in small numbers.
The Corsair may not have been as exciting as its looks suggest, and the V4 engine was not an unqualified success, but it did ultimately prove a strong and affordable competitor in a newly-emerging 4-cylinder 'executive saloon' market, undercutting the svelte Rover 2000 and rather regal Humber Sceptre, for example, and in a contemporary road test a Corsair 2.0L achieved an indicated 110mph, with impressive acceleration.
In the end, the Corsair was squeezed out by a reshuffle in the Ford range. The once-small Cortina grew to become the Corsair's 'executive' replacement, itself displaced by the new, small Ford Escort. At the same time, Ford transferred its sporting ambitions to the new Ford Capri.