Triumph Daytona (2006 - 2012)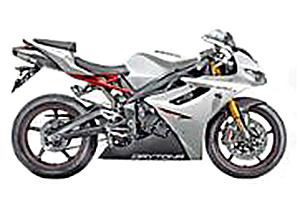 Complete coverage for your vehicle
Written from hands-on experience gained from the complete strip-down and rebuild of a Triumph Daytona, Haynes can help you understand, care for and repair your Triumph Daytona. We do it ourselves to help you do-it-yourself, and whatever your mechanical ability, the practical step-by-step explanations, linked to over 900 photos, will help you get the job done right. Regular servicing and maintenance of your Triumph Daytona can help maintain its resale value, save you money, and make it safer to ride.
Choose the Haynes manual that is right for you with our complete comparison guide
Printed manualThe original and best, delivered to your door
Online manualA feature-loaded digital edition of the original manual
Maintenance schedule Simple weekly checks and servicing guides to keep you on the road
Printed manual
Digital manual
Comprehensive procedures Guide you through every step from minor adjustments to major overhaul
Printed manual
Digital manual
Fully illustrated With hundreds of photos
Printed manual
Digital manual
Hints and practical advice From the DIY experts provide inside information
Printed manual
Digital manual
Specifications and data Enable testing and measuring for wear
Printed manual
Digital manual
Wiring diagrams Enable tracing of electrical faults
Printed manual
Digital manual
All colour Photos and wiring diagrams which can be enlarged
Printed manual
Digital manual
Easy search Find the task you are looking for quickly
Printed manual
Digital manual
Print-at-home Take the sections you need to the workshop
Printed manual
Digital manual

Printed manual

The original and the best, delivered to your door

Online manual

All the content of a printed manual, plus much more
What's covered
What's covered:
Daytona 675cc 06 - 12
Daytona R 675cc 11 - 12
Street Triple 675cc 07 - 16
Street Triple R 675cc 09 - 16
Street Triple RX 675cc 2016
Exclusions:
Does not cover the 2013-on 675 Daytona.
Table of contents
Contents
Introduction
Pre-ride checks
Chapter 1 : Routine maintenance and servicing
Chapter 2 : Engine, clutch and transmission
Chapter 3 : Cooling system
Chapter 4 : Engine management system (fuel and ignition)
Chapter 5 : Frame and suspension
Chapter 6 : Brakes, wheels and final drive
Chapter 7 : Bodywork
Chapter 8 : Electrical system
Wiring diagrams
Reference
Print manual
More details
Online manual
More details
About
The Daytona 675 was introduced in October 2005, though marketed as a 2006 model. It superseded the four cylinder TT600, and took advantage of the extra 75cc allowed in the Supersports class for three-cylinder engines. For 2009 power output and engine rev limit was increased through modifications to the cylinder head and fuel mapping, and the 1st gear ratio was higher. The cam chain tensioner was hydraulic instead of mechanical. The SH125 continued without change until 2005 when stricter emission laws forced the fitting of fuel injection for many motorcycles and scooters over 50cc. The PGM-FI injection system was the same as already fitted to the 125/150cc Pantheon models. Our repair manual makes the ideal companion when you're undertaking maintenance or repairs on your morotrcycle.