Suzuki SV650S (1999 - 2008)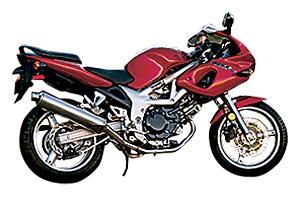 Complete coverage for your vehicle
Written from hands-on experience gained from the complete strip-down and rebuild of a Suzuki SV650S, Haynes can help you understand, care for and repair your Suzuki SV650S. We do it ourselves to help you do-it-yourself, and whatever your mechanical ability, the practical step-by-step explanations, linked to over 900 photos, will help you get the job done right. Regular servicing and maintenance of your Suzuki SV650S can help maintain its resale value, save you money, and make it safer to ride.
Choose the Haynes manual that is right for you with our complete comparison guide
Printed manualThe original and best, delivered to your door
Online manualA feature-loaded digital edition of the original manual
Maintenance schedule Simple weekly checks and servicing guides to keep you on the road
Printed manual
Digital manual
Comprehensive procedures Guide you through every step from minor adjustments to major overhaul
Printed manual
Digital manual
Fully illustrated With hundreds of photos
Printed manual
Digital manual
Hints and practical advice From the DIY experts provide inside information
Printed manual
Digital manual
Specifications and data Enable testing and measuring for wear
Printed manual
Digital manual
Wiring diagrams Enable tracing of electrical faults
Printed manual
Digital manual
All colour Photos and wiring diagrams which can be enlarged
Printed manual
Digital manual
Easy search Find the task you are looking for quickly
Printed manual
Digital manual
Print-at-home Take the sections you need to the workshop
Printed manual
Digital manual

Printed manual

The original and the best, delivered to your door

Online manual

All the content of a printed manual, plus much more
What's covered
What's covered:
SV650-X
Y
K1 to K8 645cc 99 - 08
SV650S-X
Y
K1 to K8 645cc 99 - 08
Exclusions:
We regret that, owing to contractual obligations, we are unable to supply this book to residents of Austria, Czech Republic, Germany, Liechtenstein or Switzerland
Please contact a local supplier.
Table of contents
Contents
General Information
Chapter 1: Routine maintenance and servicing
Chapter 2: Engine, clutch and transmission
Chapter 3: Cooling system
Chapter 4: Part A: Fuel and exhaust systems – X, Y, K1 and K2 models
Chapter 4: Part B: Fuel, engine management and exhaust systems - K3 models onwards
Chapter 5: Ignition system
Chapter 6: Frame, suspension and final drive
Chapter 7: Brakes, wheels and tyres
Chapter 8: Bodywork
Chapter 9: Electrical systems
Wiring diagrams
Reference
Print manual
More details
Online manual
More details
About
A genuinely all-new design is a rare thing, and even more so when it is a budget bike. Suzuki re-invented the all-round fun roadster with the Bandit back in the mid-1990s, which took the market by storm. Suzuki's record with V-twins isn't quite so inspiring. The factory-custom Intruders never captured the public imagination and the TL1000 suffered from scare stories and lack of race-track credibility.
So how to explain the SV650? It sprung all-new and fully formed from Japan at a bargain price. A fun 70 bhp V-twin in an aluminium frame with looks derived from the undeniably handsome TL1000. There was of course evidence of penny pinching if you looked hard enough, like non-adjustable suspension and narrow wheels – even the plain paint schemes, but all the road tests agreed – here was the heir to the Bandit.
Our Suzuki SV650 & SV650S manual will help you gain the confidence you need to service and repair your motorcycle.