For a new generation of vehicles, welcome to an all-new repair guide. The Haynes Manual has inspired and helped DIY repairers for more than 60 years, but today's modern vehicles come with new challenges that can only be tackled by a digital product.
When we first began selling manuals in the 1960s, vehicles were simple to maintain and there were relatively few models on sale. Today, electronics are a vital part of how your vehicle operates and there are more than 100,000 different variants of make/ model/ body type/ gearbox and engine. So at Haynes, we knew that to continue offering a great product, we needed to take a brand-new approach – nothing less than a reinvention of the repair manual. Modern cars are equipped with dozens of sensors and ECUs (control units). Today, the first step when servicing a car is to plug a diagnostic tool into the OBD (on-board diagnostics) system of the vehicle.
So, we're putting an electronics diagnosis module in the hands of DIY repairers for the first time. Enter a fault code and follow the instructions to test components in order, and establish the likely cause of a problem. Our tool goes far beyond what commonly available fault code readers offer, and puts you, the car owner, back in control. Even if you don't choose to complete the repair, you will know exactly what the problem is when you hand it over to a workshop.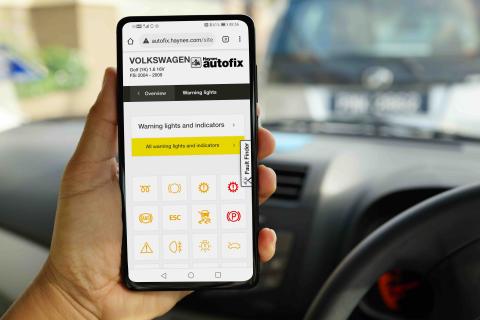 With make and model coverage of around 90% of cars, AutoFix takes the help you get from Haynes to a new level. And at an introductory price of £25, AutoFix can be accessed via your favourite digital device – phone, tablet or desktop – and, as with Haynes online manuals, you get to keep your purchase for as long as you need it. No deadlines, no pressure to get that job finished before time runs out, no stress.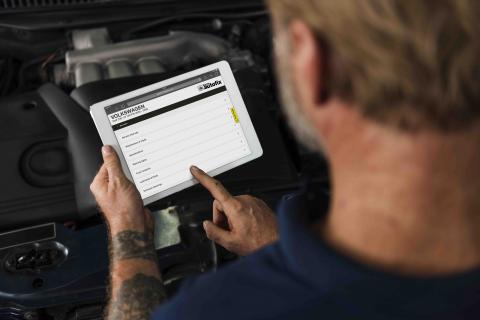 What does AutoFix give me?
Once purchased, you'll have access to the following information:
Service intervals
Including service indicator reset
Specifications
Engine
Emissions
Cooling system
Electrical
Brakes
Steering and wheel alignment
Air conditioning
Wheels and tyres
Capacities
Torque settings
Maintenance and repair information
Engine
Clutch
Transmission
Drive shaft
Differential
Steering and suspension
Brake system
Heating and air conditioning
Bodywork and interior
Electrical system
Wheels and tyres
Lubricants & fluids
Engine
Cooling system
Brakes
Transmission
Air conditioning
An interactive fault finder to diagnose more than 400 problems
DIY tutorials
The experts at Haynes have compiled 50+ tutorials on tasks that range from changing the oil to replacing a timing belt. Use these DIY friendly guides alongside the data for your vehicle to complete the job correctly first time
Videos
Technical drawings
View super-high-quality diagrams of key components, with exploded views. Each one details the torque setting of every fitting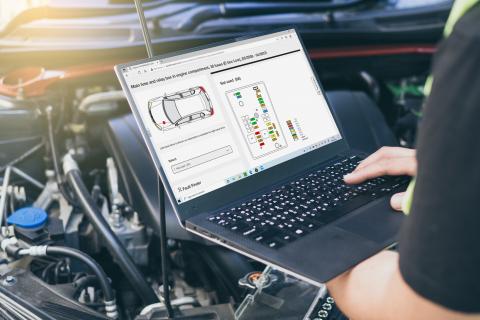 Electrical
Warning lights guide
Fuse locations (shown above)
Comfort wiring diagrams:
Clear, "localised" wiring schematics for key vehicle features, with wire and component trace functionality for fast, efficient, first-time fixes.
Includes pan and zoom functionality
Highlight feature to trace corresponding wires and components
Includes: Air conditioning, central locking, exterior lights, horn, instrument cluster, electric windows, starting/charging, airbags, wash/wipe system
Electronic diagnostics - coming soon!
A world-leading diagnostics application, now available for DIYers
Wiring diagrams for engine management, ABS, ESP and air conditioning
Retrieve data from the vehicle's engine management/CAN-Bus system to diagnose faults and component errors that have generated fault codes
Enter fault codes and see their description with suggested components to test
Take a look at more AutoFix screenshots…