John Evans is a long-time motoring journalist and editor from titles such as What Car?, AutoCar and Practical Caravan.
Ford Focus Mk2 used car buying guide
The Mk2 Ford Focus was as popular as the Mk1 model, thanks to its inoffensive styling, excellent dynamics, spacious cabin and range of body styles (three and five-door hatch, and an estate).
Buyers could choose from petrol- and diesel-engined Focus models, the latter preferred by fleets and business users for their lower CO2 tax rates.
These versions, available with 1.6 TDCi, 1.8 TDCi and 2.0 TDCi Duratorq engines, are plentiful and good value on the used car market but petrol models are cheaper, and generally simpler and easier to maintain.
The Mk2 Focus was facelifted in 2008, and was known as the Mk2.5 Focus until it was replaced by the Mk3 model in 2011.
Ford Focus – is it reliable?
Given how many were sold, and the hard lives company-operated diesel cars have, it says much for the model's build quality that, according to warranty company Warranty Direct, the Ford Focus is a reliable car.
It achieves a rating of 58 on Warranty Direct's Reliability Index, where 100 is rated as average and anything lower is good. However, repairs average around £280, which suggests that on the few occasions things do go wrong, repair bills are quite high.
According to Haynes' records, most problems with the Focus diesel can be traced to the engine or electrics, which might explain the high repair costs.
Worryingly, the Focus diesel has been the subject of a high number of recalls; in fact, as many as 13. Generally speaking, recalls are prompted by a few examples of cars giving cause for concern and are intended to nip the problem in the bud before it can become more widespread.
Still, that these problems existed shows a worrying lack of attention at the Focus's design and production stages.
Fortunately, many recalls fall within a narrow production window and should have been rectified by now, but it's worth checking with a Ford dealer if your vehicle was affected and has been attended to (for free). For information on official safety recalls, check the DVSA recall website here.
Major Focus diesel recalls include:
Fuel return pipe leak (14/07/04 to 22/02/05)
Electronic cooling fan module may overheat (16/07/04 to 1/12/06)
Rear hub bolt may become loose (21/02/07 to 15/04/07)
Hard brake pedal during engine warm up (1/11/08 to 12/03/09)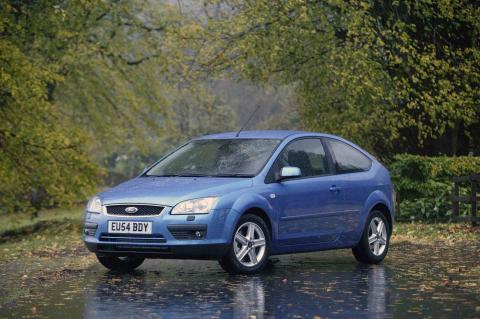 Ford Focus diesel engines
The 1.6 TDCi (it stands for turbdodiesel common rail injection) can suffer with a clogged diesel particulate filter (DPF). Symptoms include engine oil contaminated with fuel, and a rise in engine speed.
In most cases, the DPF and additive have not been renewed at the scheduled time. Power loss accompanied by the engine warning light and a noise from the turbocharger could spell turbo replacement. The Haynes manual for this model Focus explains how to replace the particulate filter, and rates the job as 'Fairly difficult, suitable for the competent DIY mechanic'. 
Still on the 1.6 TDCi (chapter 2a), a difficult engine start could be an incorrect camshaft position sensor air gap, and a fluctuating and vibrating idle with power loss, white smoke and a default to limp-home mode, a faulty mass airflow sensor. The relatively simple job of replacing the MAF on the Focus 1.6 TDCi is explained in chapter 4a - Fuel and exhaust systems.
A jerky movement from the engine with no increase in speed is probably caused by a faulty accelerator pedal (check the pedal position sensor - find out how to replace it as part of the pedal assembly in chapter 4a), and a default to limp-home mode with fault codes P0489, P2141 and P042E, a faulty EGR valve.
The same Ford Focus EGR valve could be the source of general poor running problems (chapter 4b, section 4), while a faulty instrument panel could be the cause of an engine unable to start or turn, or simply stall intermittently. Alternatively, a faulty fuse connector in the engine compartment fuse box could be responsible. Head for chapter 12, section 3 to find out the location of the Focus's fuse boxes (there are two).
Still with the 1.6 TDCi, if the engine turns but doesn't start, and there's no communication between the engine diagnostic tool and several control units (ABS, power steering and engine), check for faults codes U2516 and B2139 at the engine compartment junction unit. If they're showing, check for faulty connections at the instrument panel (chapter 12, section 10).
Limp-home mode, power loss and excessive black exhaust smoke accompanied by fault code P0299 at the engine control unit is a leak in the air inlet system. This component is detailed in chapter 4a, section 2 - a job rated by Haynes as 'Fairly easy, suitable for a beginner with some experience'.
A default to limp-home mode with power loss could also be caused by a faulty differential pressure sensor.
6 things you'd only know about the Mk2 Focus by taking it apart
If the Focus suffers from high engine compartment temperatures these could be caused by high exhaust gas temperatures, themselves caused by a damaged turbocharger air inlet pipe (find photos of it in chapter 4a, section 13).
Finally, on the 1.6 TDCi Focus, the starter motor failing to turn after the battery has been disconnected and reconnected, and with fault codes P1602 and B2139, could be because the passive anti-theft system (PATS) has not been initialised.
An incorrectly installed fuel return line was the subject of a recall. Power loss, fuel leakage and illumination of the malfunction indicator light (MIL) are the signs to look for.
The 2.0 TDCi engine (chapter 2c) can suffer most or all of the above plus difficult staring when cold (check for water in the fuel filter), engine stall and failure to restart (the fuel pressure may be too low so check the exhaust camshaft to high-pressure pump coupling), and power loss caused by faulty turbo operation (check if the turbo actuator has seized in the open position).
In addition, if the battery charge warning light remains on after the engine has started and the car shows fault codes P1632 and P0625, check the health of the alternator (chapter 5, section 5).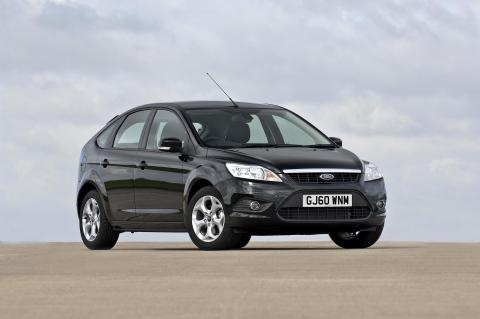 A grinding noise from the front of the Focus is likely to be a damaged driveshaft centre bearing. It requires a new bearing and a new driveshaft clamp and boot.
Ford Focus steering and suspension
There was a recall for a power steering hose that did not conform to specification and another for the rear hub retaining bolts which could become loose. Contact a Ford dealer to see if the recalls have been carried out.
Ford Focus brakes
Regarding both 1.6 and 2.0 TDCi versions, the brake warning light with fault codes C1141 and C1142 could signify insufficient protrusion of the wheel bearing into the front stub axle. Renewal of the wheel hub is the only answer (chapter 10, section 7).
A recall was issued for a problem where the brake pedal could become stiff in low ambient temperatures. It's caused by a sticking non-return valve in the brake vacuum pump and the solution is to fit a modified valve.
Meanwhile a faulty yaw rate sensor could be the cause of the ABS and ESP warning lights illuminating, together with ABS/ESP control unit fault code C1279.
'Engine malfunction' showing on the instrument display, and the brake lights failing to illuminate, could be caused by a short circuit in the tail light carrier plate.
Check for blown fuses in the fuse box located in the passenger footwell.
A spotter's guide to the Ford Focus
Exterior and interior
There was a recall concerning possible failure of the Ford Focus roll-over protection system securing bolts. Your dealer should check and tighten them, and replace any missing ones.
Ford Focus electronics
The remote key not working is simply a discharged button cell (Haynes shows you how to change both types of Focus keys' batteries in chapter 1, section 25 - it's an easy job that anyone can do).
Risk of fire is more serious and the Focus was the subject of a few recalls concerning this problem. Most could be traced to corrosion of the engine cooling fan control unit and subsequent overheating.
A faulty Ford Focus wiring loom fitted with a split charging system whose relays don't conform to specification and which could cause a fire, was another recall.
Failure of the Focus's wiper arm could be caused by water ingress via the wiper arm spindle creating a short circuit.
Incorrect Focus ambient air temperature readings (it shows -60deg C) are caused by a faulty temperature sensor.