How an engine's oil filter works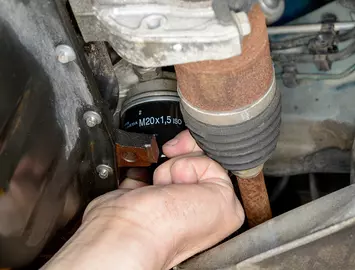 The oil filter catches contaminants such as tiny metal particles that could otherwise damage engine parts, including the oil pump, and should always be changed whenever the oil is renewed.
The engine oil can be drained via the sump plug (recommended) or through the dipstick hole with an oil extraction pump, and this should be done before the oil filter is removed. Always use the correct filter and oil grade for your car's engine and check the new oil is at the right level on the dipstick before driving the car.
This is a relatively easy task and you'll need only basic tools for the job - as well as an oil filter wrench. If you use the oil extraction technique this task can be completed within half an hour. Allow an hour if you want to empty the oil via the sump plug (recommended).
Every car is different, so before you view the full instructions, find yours…
When to change your oil and filter
"Some high-performance models need to have their oil and filter changed every 6000 miles or six months"
This is one of the most debated subjects among DIY mechanics. Every engine is different and requires a specific grade of oil - always consult your car's handbook or refer to Haynes for the correct type. Some high-performance models need to have their oil and filter changed every 6000 miles or six months (whichever comes sooner). Other cars with long-life oil can go as far as 24,000 miles (or more). However, here at Haynes we recommend you change oil and filter once a year, or every 12,000 miles, whichever comes first, or sooner, depending on your handbook's advice.
Never be tempted to skip a filter change when you change the oil - the old filter will contaminate the new oil.
All cars are slightly different, so if it is time to change your oil and filter, use our before you begin checklist, and find your car for specific instructions.
How to change your engine oil and filter via the sump
This is a clip from a sample video. Find the full step-by-step task for your model
A very brief summary of the task:
Run the engine until it is up to operating temperature. Turn off. Raise the car, place a tray beneath and undo the sump plug. Allow the oil to drain. Fit a new sump plug and washer
Access the oil filter from underneath the car or in the engine bay, depending on your car. Remove with a filter wrench or by hand
Fit a new filter, smearing oil on its seal before you tighten it by hand only
Open the oil cap and fill the engine with fresh oil. Keep checking the oil dipstick to make sure it's at the right level
Tools you will need
Mainly basic tools are required for this job, although you'll need a filter wrench and you may need to raise the car to remove the undershield/inner fender splashield.
Drain pan
Rubber gloves
Breaker bar
Socket set
Filter wrench
Screwdriver
How much does new oil/filter cost?
| | |
| --- | --- |
| Oil | £5-£25 per litre |
| Filter | £3-£30 |
Every car is different, so before you view the full instructions, find yours…