This small hatchback might seem perfectly ordinary today, but when it was launched it was something genuinely new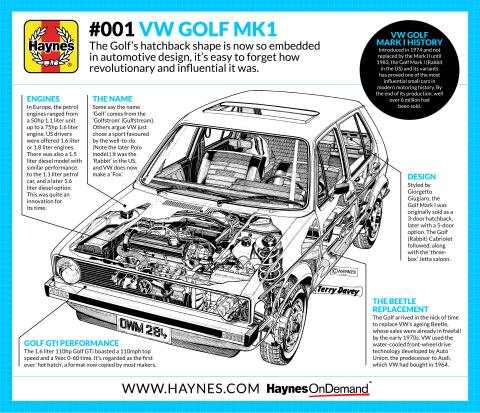 The Golf was designed to be the successor to the VW Beetle, whose sales were in sharp decline by the 1970s. There can't be many times in automotive history when such a huge step-change in car design has taken place – from the archaic air-cooled Beetle, a car first made in 1945, to a front-engined, front-wheel drive hatchback of a design still used today, more than 40 years later.
According to some, the name 'Golf' comes from 'Golfstrom', or Gulfstream. VW has also used 'Scirocco', after the hot Mediterranean wind (also spelt 'Sirocco'). Others will point out that it could be just a literal reference to a popular sporting pastime for the affluent – note the later VW 'Polo'.
In the US, however, the Mark 1 Golf was called the Rabbit, and VW has since launched the tiny Fox, so there's clearly a bit of a woodland theme going on here too.
The Golf Mark 1 used front-wheel-drive water-cooled front engine technology from Auto Union, a company it acquired in 1964 and which was later to become Audi. In VW's hands, this proved to be one of the first successful hatchbacks, using a 'two-box' design rather than the 'three-box' layout of conventional saloon cars (with a hood, a cabin and a trunk). VW did follow up with a Jetta saloon model later. 
Initially, VW's hatchback came with three doors, though a five door option was made available later. It was designed by Giorgetto Giugiaro, who also designed the Alfa Romeo Alfasud and the revolutionary (for its time) Lotus Esprit.
The Golf Mark I stayed in production from 1974 to 1983, when it was finally replaced by the Golf Mark II. The new car kept the same Golf 'look', but it was longer and wider. There was a minor facelift in 1980, bringing larger rear lamps, new bumpers, better instruments and (in the US) square headlamps. By the end of its production well over 6 million Golf Mark I's had been sold.
It was intended as a practical small family car and the engine choice reflected this. The petrol engines ranged from a 1.1 liter unit producing a modest 50PS, up to a 75PS 1.6 liter engine. There was also a 1.5 liter diesel version, which was practically a new class of car at the time, and this had a power output of 50ps to produce  comparable performance to the 1.1 liter petrol car. Small car diesel engines were in their infancy, and needed the extra capacity to match the performance of petrol models. Later, a 70PS 1.6 liter diesel was added.
There were two important Golf variants – the Golf Cabriolet (Rabbit Convertible, and then Rabbit Cabriolet in the US) and the Golf GTi.
The much-loved Golf GTi is credited with creating the whole 'hot hatch' category and came equipped with a 1.6 liter engine delivering 110PS. With a curb weight of just 810kg, this was enough to give the Mark I GTi a top speed of 110mph and a 0-60 time of 9 seconds – and that's pretty perky, even by today's standards.
The VW Golf range has come a long way since the original Mark I – it's certainly got a lot bigger – but the changes have been mostly evolutionary rather than revolutionary. The Golf Mark I, however, was a genuine revolution.