Some cars look like their ancestors, but todays seventh generation (C7) Corvette looks nothing like the pretty, glamorous convertible unleashed on the American public in 1953. 
This first-generation Corvette ran from 1953 to 1962 and went through a number of changes to both the bodywork and the power units. A fuel-injected option was introduced in 1957 which produced 283bhp from its 283 cubic inch engine – one of the first mass-produced engines to achieve 1bhp per cubic inch, and the basis for a GM marketing campaign.
Cosmetic changes included a 'duck tail' rear with four round tail lights, which was to become a Corvette trademark look right up until 2014.
The C1 Corvette was replaced by a very different-looking second generation model in 1963, though the technical underpinnings were similar. The new Corvette did at least replace the first car's solid rear axle with independent rear suspension, and it introduced the 'Sting Ray' name.
The coupe version had the iconic Sting Ray split rear screen, though this was replaced with a single rear window in 1964. There was a convertible version too. This was the first Corvette to feature pop-up headlamps, which continued right up until 2005.
This was the era of big engines and big power outputs. 1984 brought a maximum power output of 375bhp, in 1965 there was a 'big block' 396 cu in (6.49 liter) motor with 425bhp and this all culminated with an L88 engine in 1867 which was rated at 430bhp but estimated by some to be closer to 560bhp or more.
Fix YOUR car today with a Haynes Manual, in print or digital!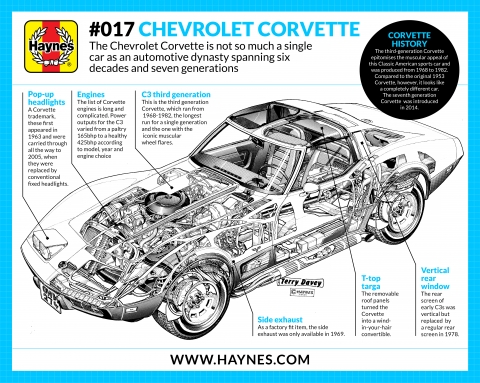 The third generation (C3) Corvette in our cutaway illustration ran from 1968 to 1982. It was the generation where the Corvette grew up and become more responsible. The C3 Corvette had curved, muscular lines and introduced T-top removable roof panels. The engine and chassis components were mostly carried over from the previous model but the body and interior were new.
1969 brought a new all-aluminium ZL1 big block motor listed at 430bhp but reported to produce 560bhp, giving the ZL1 a reported standing quarter mile time of under 11 seconds. And in 1970, the power output from Chevrolet's small block engine hit a peak of 370bhp.
But this generation would be hit by the fuel crisis and toughening emissions regulations. In 1971 GM lowered compression ratios to cope with low-lead fuel, which led to reduced power ratings – the 350 cu in 5.7 liter base model went from 300bhp down to 270bhp, and similar reductions were felt across the range.
And then in 1972 General Motors swapped from its gross power measurement to SAE Net power ratings, which lowered the figures still further – the cars still drove the same, of course, but the quoted power outputs fell. When catalytic converters were introduced in 1975, the base ZQ3 engine produced a quoted 165bhp, a long way from the crazy big block V8 days of the second-generation Corvette.
The fourth generation C4 Corvette brought a compete redesign in 1984, with modern innovations like an electronic dash, with LCD displays for the speedometer and tachometer and, in 1992, an Acceleration Slip Regulation system for traction control under acceleration. In 1993, Chevrolet introduced a keyless entry system.
The standard engine became the 230bhp L98 but 1987 brought a 345bhp twin-turbo B2K motor, later pushed up to 450bhp – this high-performance model was joined and eventually replaced by 1990's ZR-1 model. In 1992, the the LT1 engine brought the power up to 300bhp, a useful boost over the L98 motor. The Corvette was getting its mojo back.
The fifth generation Corvette ran from 1997-2004, with smoother lines and the most complete redesign since the original 1953 model. It brought better aerodynamics, improved economy, 50/50 weight distribution, and all-new monocoque chassis to replace the old ladder design, new suspension geometry, 'active' handling and more. 2001 brought the highest performance model with a 386bhp LS6 motor, later upgraded to 405bhp. 
The sixth generation Corvette was touted as 'all new' but it was really a refinement of the existing design, with regular headlights instead of pop-up units and an improved interior. A new LS2 engine provided 400bhp from an increased 6.0 liter capacity, and a 7.0 liter small block engine producing 505bhp arrived in 2006. Then, in 2007, a new ZR-1 model was announced with a supercharged 6.2 liter engine producing 638bhp for a top speed of 205mph.
The seventh generation Corvette was launched in 2014. The biggest muscle so far comes from the Z06 and its 650bp supercharged 6.2 liter V8. It might be unrecognisable next to the cute 1953 convertible that kicked off the whole brand, but the 'Vette is back to its glory days as a low-cost, high-powered sports car.