The Ford Focus has been, in one guise or another, with us since 1998. Yet unlike other cars to feature in our spotter's guides, it's only gone through three generations.
And that's probably because year after year, Ford has got it absolutely spot on with the Focus. It's a brilliant car from bumper to bumper. It can do anything, and it does it in comfort and with more than enough space for you and the family. 
The Focus had the odds stacked against it when it was new though. It had to take over from the Escort, a car that had earned Ford a lot of criticism thanks to be being so very poorly built, and so very, very boring to look at/own/drive/stand near/talk about. It was a horrid car.
So horrid that people really didn't think Ford had it within itself to build something better. Ford had other ideas though, and well and truly knocked it out of the park. 
Check out our wide range of Ford manuals, in both digital and print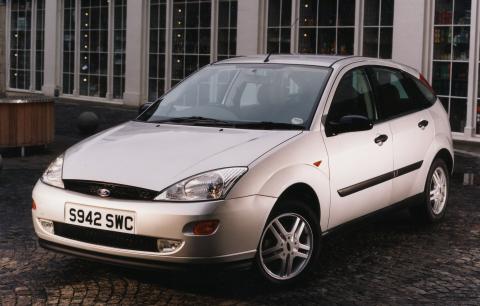 The MkI 
Built from 1998 to 2005
The Escort was hated by everyone other than your grandparents. The rival companies like Volkswagen and Vauxhall had brilliant mid-size family cars on the market.
Ford had to step up and bring something new and exciting to the table. It didn't. Instead, it drove through the table, then around it, then over it. Ford gave us the Focus. 
The Escort was a soft, squidgy looking thing. You could tell it was an old car with some faintly re-worked panels in a bid to keep it something like relevant. The Focus was the direct opposite.
It was a product of Ford's 'New Edge' design language, which was a million miles away from the old Escort. It was full of bold, sharp lines. It looked like nothing else on the road. It had presence. So much so that it was awarded European Car of the Year in 1999. 
It didn't just win on looks though. It was also astounding to drive. Other cars in this class were still using torsion or fixed beam rear suspension.
Ford binned that idea and instead gave the Focus independent rear suspension meaning it held the road like a champ. Even the little 1.4 was a riot to drive thanks to that amazing chassis. 
The MkI is going to be a classic, mark our words. To spot one, you're looking for a sleek 'half moon' body with a sharp front end housing large, triangular headlights. The rear had tall, thin lights that went up to the roof, and all Focus models had body-coloured bumpers.
The Hot One
It wouldn't be a Ford if there wasn't a hot version. The MkI Focus was the car that brought the famous RS (Rallye Sport) name back from the dead, and with some flair, too.
The Focus RS was a fire-breathing 2.0 turbocharged, 210bhp animal with push-button start, Sparco seats, Brembo brakes and a very, very good Quaife limited-slip-differential. It's now a true classic, with prices climbing on a daily basis. 
Focus fact: The Focus was nearly called the Escort, which may have been catastrophic. Ford couldn't use Focus until a legal dispute had been settled, which it was, at the 11thhour!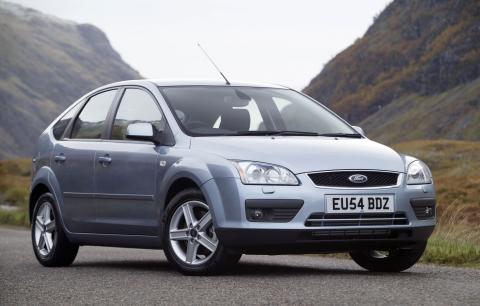 The MkII
Built from 2004 to 2011
The MkII Focus carried over the same winning chassis setup from the MkI, but stretched it fit a bigger body. It was 25mm longer in wheelbase, 168mm longer overall and 8mm taller than the first car.
That was a good thing, as it meant buyers and their families had more space inside, ensuring the Focus remained a sales favourite. 
The styling was changed to match that of the Mondeo and Galaxy of the time, so the hard and sharp edges were gone in favour of a more conventional family hatchback look.
Richard Hammond famously criticised it for looking a bit dull, but he might have been a bit quick to mark, as we didn't seem to mind. It still looked great, and it drove even better.
A new range of engines including more refined diesel units than those of the first Focus made it a hit with company car buyers, too. 
To spot a MkII Focus, you're looking for a car that's a bit more traditional looking. You can spot it easily enough though, thanks to the big headlights that pull back up into the bonnet edges.
The rear lights are still high on the car and run the length of the rearmost C pillar. Also look for the side windows and the little 'kick' up right at the rear. A dead giveaway.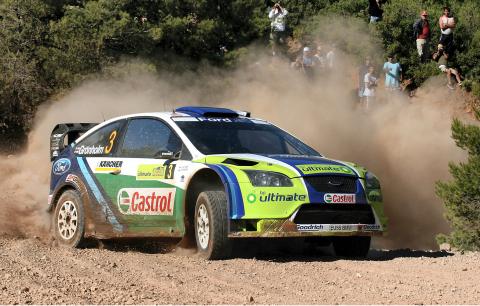 The Hot One
You might think we're going to talk about the ST here, but we're not. The ST was a wonderful, fast family hauler, but as we all know, it's the MkII RS that we really want.
The 2.5 five-cylinder turbocharged engine (shared with Volvo) put a phenomenal 300bhop through the front wheels thanks to a revolutionary new suspension setup called the 'RevoKnuckle' along with a torque-biasing limited-slip differential. It would go on to 163mph if you were brave enough. 
Focus fact: In 2008 Jari-Matti Latvala became the youngest driver to ever win a rally. His car? A Ford Focus WRC of course!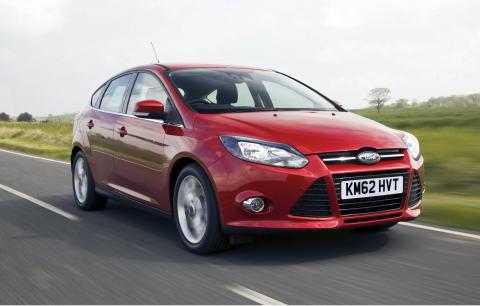 The MkIII
Built from 2010 to present 
The third-generation Focus is quite literally a global phenomenon. Prior to this, the Focus available in North America was a different car to the one available in Europe. The MkIII changed all that by being built in factories around the globe to the same basic specification.
It was also built to Ford's Kinetic Design philosophy, which meant it was once again a striking and adventurous take on the humble family car. 
Again, it grew bigger than the previous generation, but it still retained the class-leading independent rear suspension. The third Focus also brought with it a range of new engines including a direct injection inline four-cylinder and also a super economical 1.0 three-cylinder turbocharged unit.
There was also a new double-clutch automatic transmission by the name of PowerShift. Frustratingly for Ford, it was plagued with problems and as such, there was many a lawsuit. Thankfully the issues have been ironed out now. 
To spot one, you're looking for a wide, low, long car. The trademark 'kick' in the rear side windows remains, though the rear lights have moved to a position lower on the back of the car. The front lights are longer, but also thinner, giving the MkIII Focus a more chiselled look.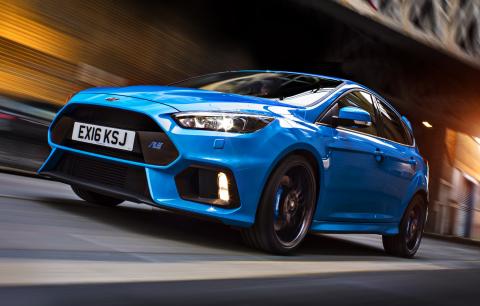 The Hot One
Again, Ford gave us an RS version, and again, it was (well, still is) a proper animal. It might have lost a cylinder, returning to four within its 2.3 turbocharged engine, but it gained a significant amount of horsepower.
The current Focus RS boasts an impressive 345bhp, which would be far too much for the front tyres, so Ford made it all-wheel drive. And with it, they added a 'drift' mode, so you can slide it around like a proper hooligan!
Focus Fact: In the planning stages, the young designers used what's called the Third Age Suit in order to simulate the physical limitations of an elderly person. That way they could be sure the Focus would work for everyone.