Buy manuals for S60 (2000 - 2009)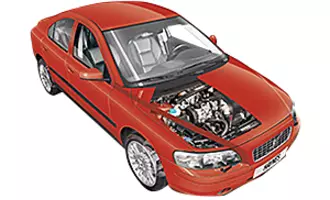 Volvo
S60 (2000 - 2009)
The Volvo S60 Saloon was introduced in 2001, and shares similar running gear and appearance with the larger S80 model. The stylish, 5-door, front-wheel drive models were given a 'soft' facelift in 2004, including minor changes to the front and rear bumpers, and some aspects of the interior.
The petrol engines are all fuel-injected, in-line, five-cylinder units of 1984 cc, 2319 cc, 2401 cc, 2435 cc or 2521 cc displacement. Both normally-aspirated and turbocharged versions are available. The engines feature a comprehensive engine management system with extensive emission control equipment. Although only one diesel engine was available, the turbocharged, direct-injection D5244T five-cylinder was uprated and modified for the 2005 model year. These improvements were mostly concerned with reducing emissions, and included the fitment of a particle filter to the exhaust system. In this Volvo S60 manual we'll show you how to service and repair your car with confidence.

Compare versions of this manual
Choose the Haynes manual that is right for you
New!
OnDemand

video content now available for your vehicle
Step-by-step maintenance and repairs guides for your vehicle in two formats.

Haynes OnDemand

Step-by-step video tasks & original manual content
Printed manualThe original and best, delivered to your door
Maintenance Simple weekly checks and servicing guides to keep you on the road
Free
Printed manual
One-job Exclusive video and original manual content on popular repairs
£1.99
Printed manual
Video collection All our videos and original manual content on 15+ popular tasks
£5.99
Printed manual
Servicing Complete, fully illustrated step-by-step guides
40+ jobs
200+ jobs
Fault codes Pinpoint specific problems easily
Haynes OnDemand
Printed manual
Easy search Find the task you are looking for quickly
Haynes OnDemand
Printed manual
Print-at-home Take the sections you need to the workshop
Haynes OnDemand
Printed manual
Wiring Easy-to-read electrical diagrams
Haynes OnDemand
Printed manual
All-colour Which can be enlarged in one-click
Haynes OnDemand
Printed manual

HaynesOnDemand

Step-by-step video tasks & original manual content

Free & paid for videos


Printed manual

The original and the best, delivered to your door
There are 18 OnDemand procedures available for your vehicle! Explore now >>>