Yamaha YZF600R Thundercat (1996 - 2003)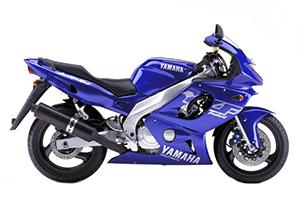 Complete coverage for your vehicle
Written from hands-on experience gained from the complete strip-down and rebuild of a Yamaha YZF600R Thundercat, Haynes can help you understand, care for and repair your Yamaha YZF600R Thundercat. We do it ourselves to help you do-it-yourself, and whatever your mechanical ability, the practical step-by-step explanations, linked to over 900 photos, will help you get the job done right. Regular servicing and maintenance of your Yamaha YZF600R Thundercat can help maintain its resale value, save you money, and make it safer to ride.
What's covered
What's covered:
FZS600 Fazer 599cc 98 - 03
YZF600R Thundercat 599cc 96 - 03
Exclusions:
Does not include the 2003-on FZ6
Print manual
More details
About
The Yamaha YZF600R (Thundercat in European markets) is a 599 cc sports bike made by Yamaha from 1996 to 2007. While similar in style to its sibling, the YZF-R6, the 600R maintains some significant differences, including a less aggressive posture, lower revving and higher torque producing motor, and a large 1 piece seat.